This is a sponsored post about holiday desserts by Mirum Shopper! As always, all opinions are my own.

I'm afraid I have a new addiction, you guys.
Coffee.
Yeah, I know. Where have I even been? It's not like coffee is new. It's just that I'm a special snowflake who is a bit sensitive to caffeine. And by sensitive, I mean that I get so jittery I am nauseous if I have too much of it.
But, I have started this little habit of waking up and drinking a glass of cold brew coffee with a little hit of sweet cream in it, and my friends, it's the best moment of my day. I absolutely love it. I go to bed excited because it means I get another cup of coffee when I wake up. It's like Christmas morning every morning.

Well, as you all might have noticed, Christmas season is a wee bit hectic. Like, I am drowning and I need help and if you never hear from me again it's just that I am over here stuck under a pile of deadlines and Christmas wrap.
I did two things to help make this season a little simpler. Wanna hear about them?
Number 1) I teamed up with Marie Callendar's, Reddi-Whip, and Swiss Miss to bring you some shortcuts this baking season with the #WMTasteofHomemade campaign. Everyone loves homemade holiday treats, but we don't always have the time! These little hacks will help you look like a rockstar with that homemade appeal, without all the extra work. All of these products are available at Wal-Mart along with plenty of Christmas goodies – multi-tasking for the win!
Number 2) I tested my limits and drank a cup of coffee at 5pm the other night to give myself a little jolt to finish up a few projects.
So, as far as number 1 goes, that was brilliant. I'm super in love with these apple pie parfaits I'm sharing with you today!
As far as number 2 goes, no. No no no no no no no no. Also, no. I didn't get any actual sleep, aside from random dozing, all night long. At one point I was so disoriented I thought that we had slept through the following day and it was the next night and that was why it seemed like I'd been in bed for so long and wasn't tired anymore.
Do not recommend coffee with dinner. Ever.
Anyway, let's talk about what you can drink at any time of the night or day – Mexican Hot Chocolate! I made this super easy using a packet of Swiss Miss, some chili powder, and a bit of cinnamon. You're going to love this festive little twist on hot cocoa.
To make this, you'll need: Swiss Miss Original, chili powder, ground cinnamon, Reddi-Whip Original, and chocolate syrup – all found at Wal-Mart!
Heat up your liquid as directed on the package of hot chocolate mix. Stir in 1/2 teaspoon of cinnamon and a pinch of chili powder to the packet of mix. Combine that with your hot liquid (milk, water, or a combo of the two), and then top with Reddi-Whip and a drizzle of chocolate syrup!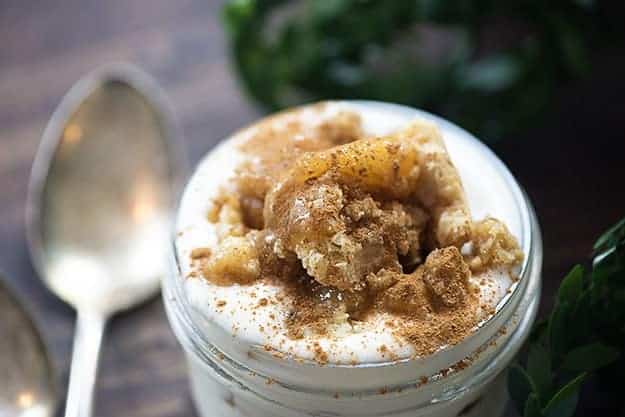 But now, let's talk about my new favorite thing to eat for breakfast. We all know that pie for breakfast is a thing that happens every holiday, right? The leftover pie is just perfect for breakfast, don't even act like you don't do it too.
This year, I upped the pie for breakfast game and turned an apple pie into a parfait! It's so good and I think you're going to love it!
All you do is layer bits of Marie Callendar's apple pie with vanilla yogurt and then top it off with a sprinkle of cinnamon. It does not get easier or tastier than that!
I used the Dutch Apple Pie, because I love a good crumb topping. Just beware – you'll have a really hard time not picking it all off and eating it plain. It's the best crumb topping I've tried!
Apple Pie Parfait
Apple pie parfait!
Prep5 minutes
Total5 minutes
Ingredients
1/2 cup vanilla yogurt
1 slice Marie Callender's Dutch Apple Pie
dash of cinnamon
Instructions
Spoon half of the yogurt into a small jar. Top with half of the pie.

Repeat layers, ending with the pie.

Sprinkle the top with cinnamon.
Nutrition Information:
Calories: 516kcal (26%)| Carbohydrates: 75g (25%)| Protein: 10g (20%)| Fat: 21g (32%)| Saturated Fat: 6g (38%)| Cholesterol: 6mg (2%)| Sodium: 408mg (18%)| Sugar: 17g (19%)