Apple cobbler made simple! Tart apples, sweet crunchy topping…don't forget the scoop of vanilla ice cream on top.

Quick question.
Is it too soon to start with the fall inspired apple recipes?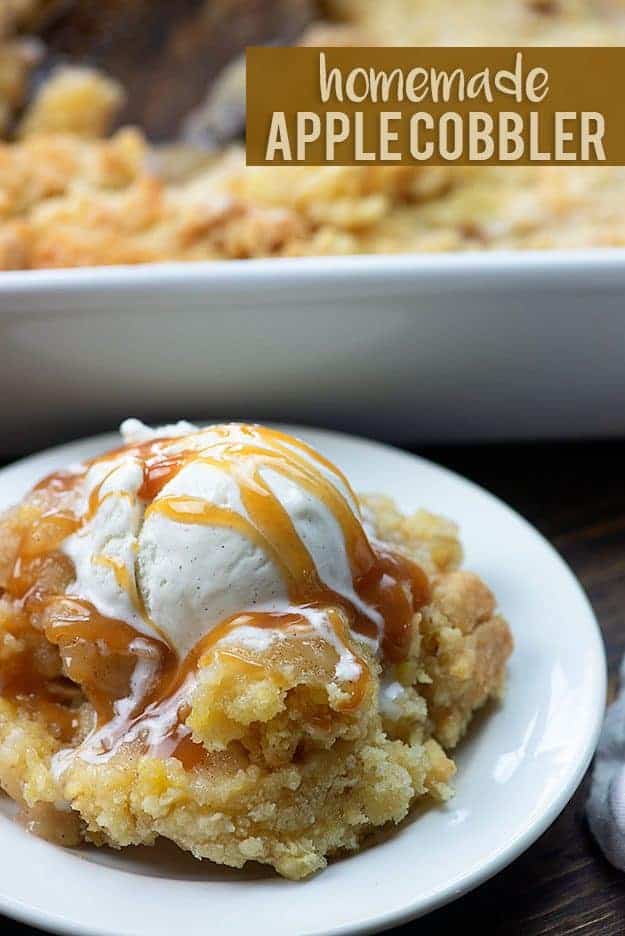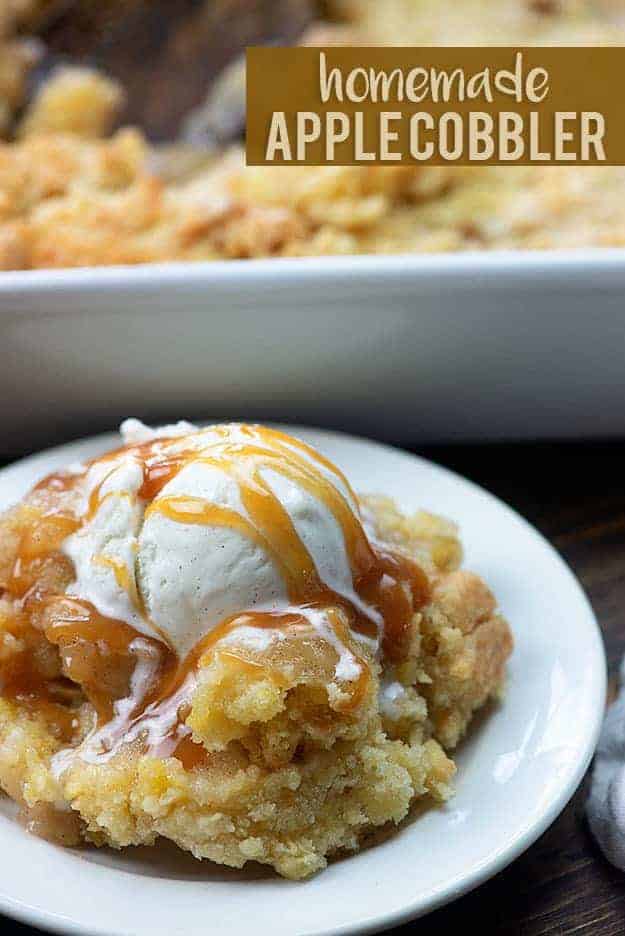 I mean, I love summer just as much as the next guy, but I made the mistake of searching Pinterest for fall decorations and, well, here we are with this easy apple cobbler recipe.
I have some new pumpkin recipes sitting in my drafts just waiting for me to hit publish, but I have a feeling y'all will revolt if I publish pumpkin in July.
But just know…it's coming. And I'm ready for it. Brace yourselves.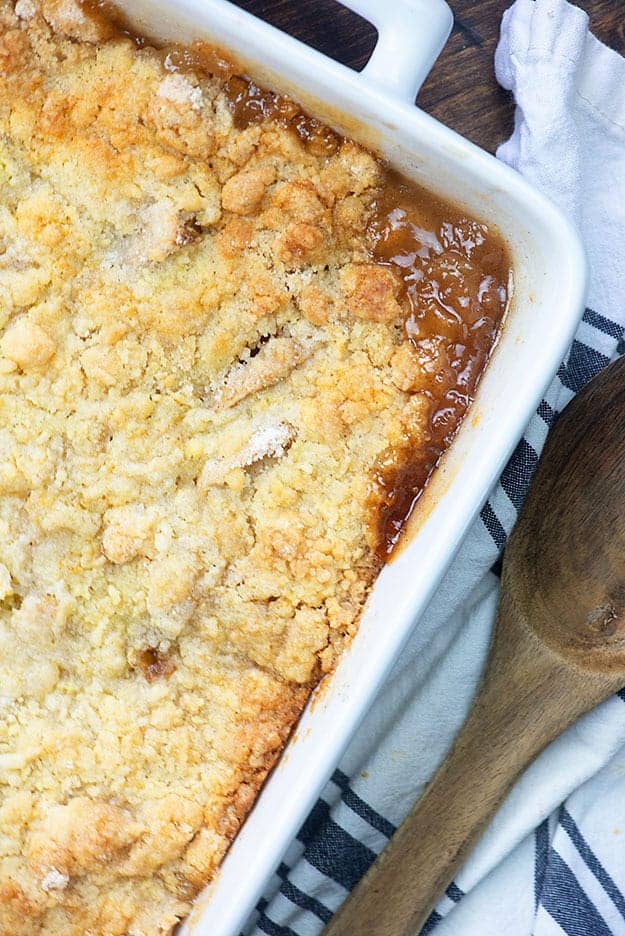 Anyway, I feel like apple recipes can happen anytime of year. Agree? Please say yes. Because this apple cobbler is DIVINE.
The tender apples bursting with cinnamon, the crunchy topping, served warm with a scoop of vanilla. And maybe a drizzle of caramel, because WHY NOT.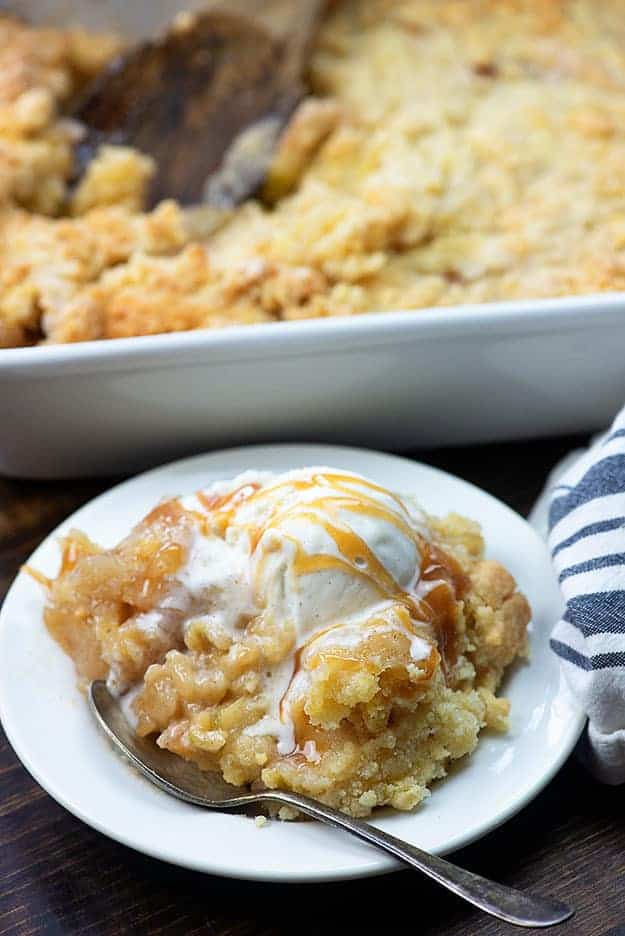 How to make apple cobbler:
We're going to start with Granny Smith apples. They're nice and tart which keeps this apple cobbler from getting too sweet. You can use whatever tart apples you like best, though.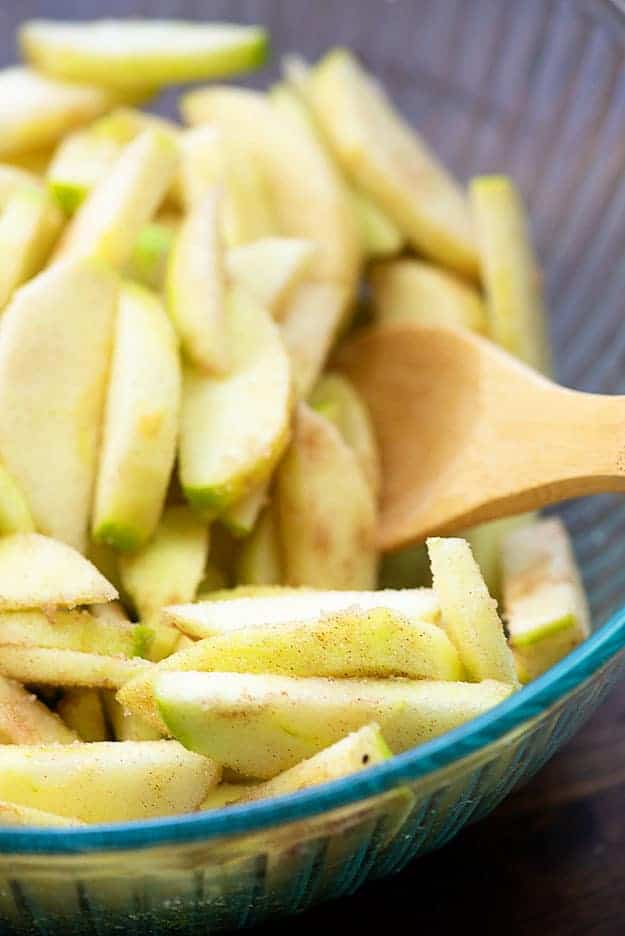 Peel and slice your apples up and then toss them in some sugar and cinnamon. I'm using a 1/2 cup of sugar, but I recommend tasting your apples before you add the sugar. You can absolutely reduce or increase it based on how sweet/tart your apples are. And keep in mind that the topping is sweet too, so don't overdo the sugar. 🙂
Add your apples to a 9×13 baking dish and then prepare the topping.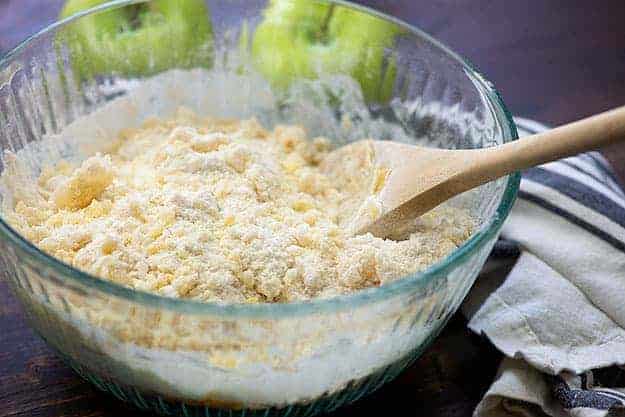 This simple apple cobbler topping is made with just flour, sugar, baking powder, salt, and eggs. You'll stir everything together until the mixture resembles coarse crumbs.
Pour the topping over the apples – it's a lot of topping because I believe the topping is the best part. 😉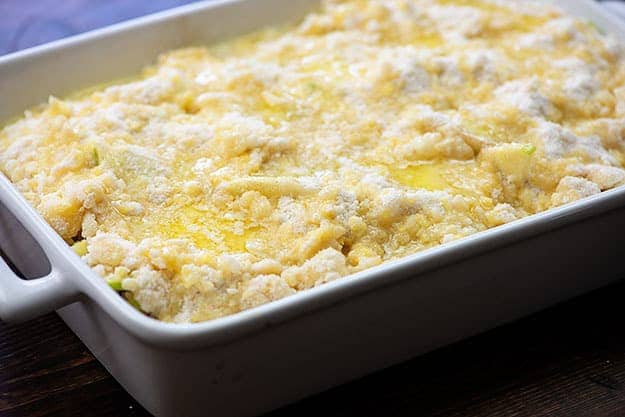 Next, you'll drizzle melted butter over the top of everything. Butter makes this nice and rich and allows the topping to bake up crispy, crunchy, and golden brown.
Bake for 45 minutes to an hour – you want the topping to be golden brown.
I let this cool for about 10 minutes before scooping out a big portion and topping it off with some vanilla ice cream.
A drizzle of caramel sauce certainly won't hurt things either.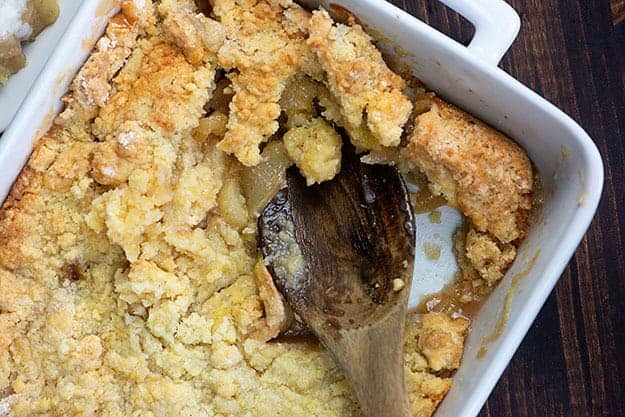 More apple recipes you might like:
Apple Fritters: You'll have to get a hot pan of oil and deep fry these, but it's worth the effort!
Apple Pancakes: If you love caramel apples, you'll love these pancakes!
Applesauce Muffins: A favorite in my house and really simple to make.
Apple Cranberry Pie: Plus tips for the perfect pie crust!
Apple Pop Tarts: Start your day off with these flaky little pastries!
For more recipes like this easy apple cobbler, be sure to follow me on Pinterest!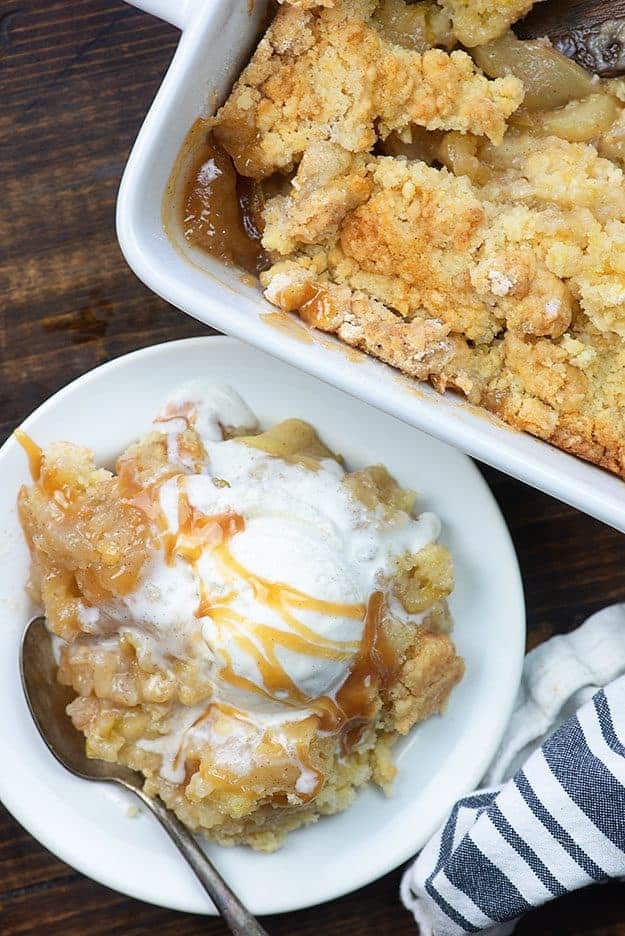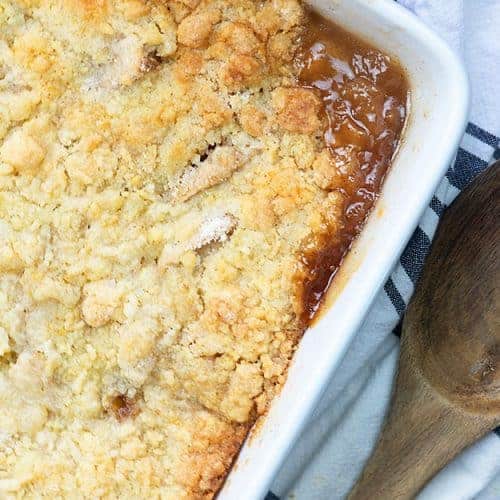 Apple Cobbler
This easy apple cobbler recipe just takes a handful of ingredients. Serve warm with vanilla ice cream and a drizzle of caramel sauce.
Prep10 minutes
Cook45 minutes
Total55 minutes
Ingredients
For the apple filling
8 large Granny Smith apples
1/2 cup sugar
1 teaspoon ground cinnamon
For the topping
2 cups flour
2 cups sugar
2 teaspoons baking powder
3/4 teaspoon salt
2 large eggs
2/3 cup melted butter
Instructions
Preheat oven to 350 degrees.

Peel and slice the apples into 1/4 inch thick slices.

Add the apples to a large mixing bowl and toss with the 1/2 cup of sugar and cinnamon. Taste and add more sugar as needed if apples are very tart.

Pour apples into a 9x13 baking dish and set aside.

Stir together the flour, sugar, baking powder, salt, and eggs in a medium mixing bowl until the mixture resembles coarse crumbs.

Pour the crumbs over the apples to cover.

Drizzle the melted butter evenly over the crumb mixture.

Bake for 45-60 minutes or until the topping is golden brown.

Cool 10 minutes before serving.
Tips & Notes:
Serve with ice cream and caramel sauce, if desired.
Nutrition Information:
Calories: 626kcal (31%)| Carbohydrates: 117g (39%)| Protein: 5g (10%)| Fat: 17g (26%)| Saturated Fat: 10g (63%)| Cholesterol: 87mg (29%)| Sodium: 375mg (16%)| Potassium: 394mg (11%)| Fiber: 6g (25%)| Sugar: 85g (94%)| Vitamin A: 660IU (13%)| Vitamin C: 10.2mg (12%)| Calcium: 75mg (8%)| Iron: 2mg (11%)