Whether you're making these mini bagel sandwiches for breakfast, lunch, or dinner, they're an easy treat that kids will love!

A lot of you know that I homeschool my kiddos, right?
Well, the 2014/2015 school year was a tough one. My daughter was in 4th/5th grade (she does a mix) and my son was in 9th grade. Yes. High school. At home. Couple that with all of the moving we did throughout their school year, and it was kind of insane. (For those of you not keeping track, we moved a total of three times over the course of the school year. I don't even know how we survived.)
Things have most definitely settled down, but this back to school thing is not any easier than it was last year. The kids have both decided that they do not like the program we've been using for nearly every subject for the past 5 years, so I've had to start from scratch. I've had to hunt down new curriculum that I think will work with their individual learning styles without a ton of hands on time from me, because mama has to work. I've been at it for days.
I'm honestly sick of school and we haven't even started yet.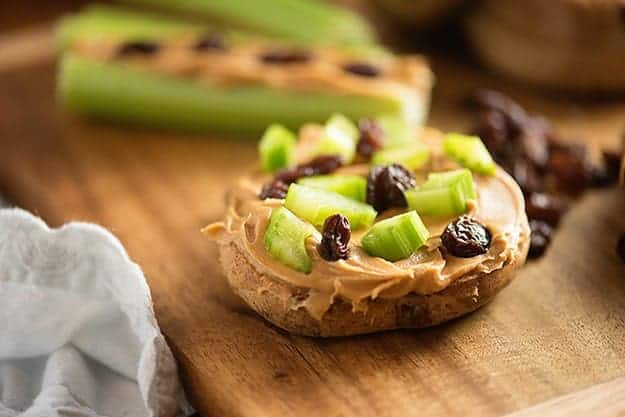 But, I know a lot of you mamas out there are super excited for the end of summer. You're ready to get back to your routine and have a little bit of alone time. I also know that you're stressed and overwhelmed, because that routine is a ton of work.
I thought I'd help ya out by coming up with a fun little lunch you can pack for your kiddos! It's also a pretty great after school snack and would even work as breakfast. I love flexible recipes like this!
Ants on a log have been a favorite of mine and my kids forever. Crunchy celery, creamy peanut butter, and sweet raisins. <— Okay, fine. Sometimes we use chocolate chips! Gotta earn my cool mom points somewhere.
I added all of that good stuff to a mini bagel. There are plenty of different flavors to choose from, but I went with a cinnamon swirl bagel for this little lunch. The protein in the peanut butter on these little open faced sammies will keep bellies full while they're away at school. Of course, you can totally sub in sunbutter if you're in a nut free school!
For some more fun bagel ideas, try my Spicy Chicken BLT Bagels for a quick dinner!
Ants On A Log Mini Bagels
Whether you're making these mini bagel sandwiches for breakfast, lunch, or dinner, they're an easy treat that kids will love!

Prep2 minutes
Cook3 minutes
Total5 minutes
Ingredients
2 mini bagels any flavor
1/4 cup peanut butter
1/4 cup diced celery
2 tablespoons raisins
Instructions
Split each bagel in half.

Spread each of the bagel halves with peanut butter.

Sprinkle with diced celery and raisins.
Nutrition Information:
Calories: 380kcal (19%)| Carbohydrates: 46g (15%)| Protein: 14g (28%)| Fat: 17g (26%)| Saturated Fat: 3g (19%)| Sodium: 442mg (19%)| Potassium: 418mg (12%)| Fiber: 4g (17%)| Sugar: 3g (3%)| Vitamin A: 55IU (1%)| Vitamin C: 0.8mg (1%)| Calcium: 28mg (3%)| Iron: 1.7mg (9%)