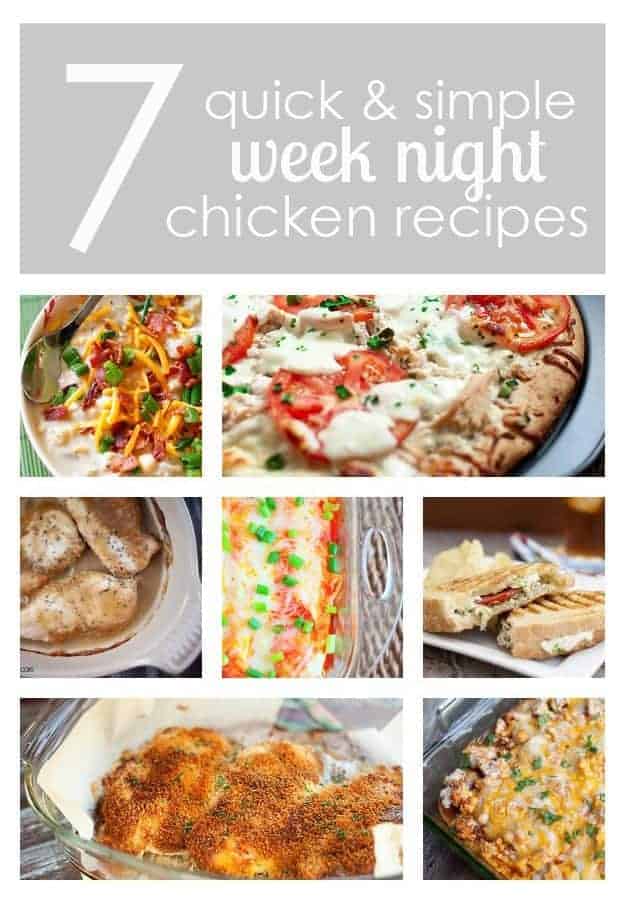 I know how easy it is to panic at dinnertime and end up in the drive through. These are a few of my go-to recipes when I just don't have the time or the inclination to cook. They're all simple, quick, and most importantly, husband and kid approved.
1. Corn and Chicken Chowder – this is a family favorite and it's the quickest soup you'll ever make. It's even hearty enough that my husband considers it a meal.
2. Chicken, Tomato, & Mozzarella Pizza – Use a store bought pizza crust and a rotisserie chicken for a delicious take on white pizza.
3. Maple Dijon Chicken – With just a handful of ingredients, this dish comes together simply and quickly, but with big flavor! Even my mustard-hater likes this one!
4. Cream Cheese Chicken Enchiladas – We used to go out to eat anytime I'd have a craving for a good enchilada, but now I just whip these up. They are my son's favorite dish and I can totally understand why.
5. Pesto Chicken Panini – These sandwiches grill up in no time. No panini maker? Just grill them on the stove like you would a grilled cheese sandwich!
6. Ranch Cheddar Chicken – Another weeknight favorite for my family, as well as my most popular recipe floating around Pinterest! It's one of the most moist baked chicken recipes you'll try!
7. Chicken Tamale Casserole – We love Mexican flavors and this casserole has all the goodness of a tamale with a quarter of the work!
Looking for a few more recipes? I've checked some of my favorite blogs and came up with five more delicious sounding chicken recipes!
Over at The Novice Chef, we have some Spicy Avocado Chicken Enchiladas. If there is avocado involved, I'm in.
Next up, we have Taste and Tell's Buffalo Chicken Tacos. Same thing goes for buffalo sauce. You can coat anything in that and I'll eat it. Dipped in ranch, of course.
If you feel like firing up the grill for a quick dinner, this Spicy Honey Chicken from The Girl Who Ate Everything sounds just about perfect.
Mel's Kitchen Cafe touts this Sweet and Sour Chicken as one of their family's favorites as well as her most popular recipe on the blog! I can totally see why!
And last, but certainly not least, Kevin & Amanda's Salsa Verde Chicken will blow your mind. I know, because it blew mine when I ate it for dinner last night. The whole family loved it and I found myself hoping they wouldn't get seconds. Those leftovers are mine, y'all.