October 5, 2017
Korean BBQ Pork Chops
These grilled pork chops are slathered in my Korean BBQ sauce recipe making this one of my favorite grilled pork chop recipes. The chops are bursting with flavor and so juicy!
So, I'm curious. In your house, who does the majority of the grilling?
Around here, it tends to be me.
My husband takes over when we have a big group of people over for a cookout and I'm not sure if that's because he's trying to help me out as I'm usually finishing up the side dishes or if it's because he has to be all manly and strong (cooking over an open flame = manly and strong) in front of his guests.
Either way, I am happy to hand over grilling responsibilities every now and then.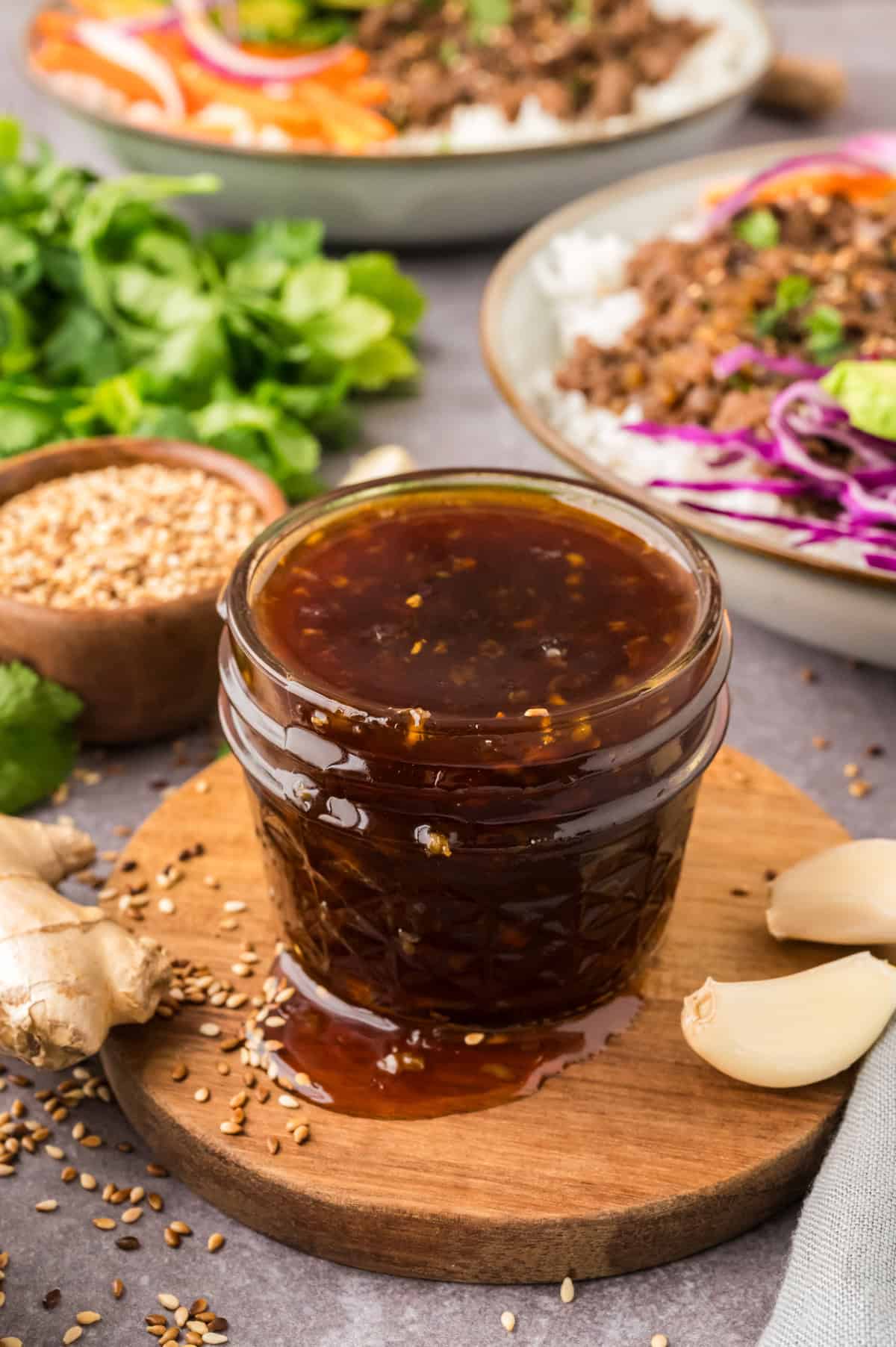 Of course, I really don't mind grilling myself. It's generally a really simple way to get dinner on the table. Turn the grill on, let it preheat, slap some meat on there, and flip a few times. Easy, right?
Grilling pork chops is so easy!
It's especially easy when you start with Smithfield pork chops, which is one of the reasons I'm so excited to have partnered with them this year. Their pork chops come all seasoned up in the package which makes the prep work super minimal.
I started this grilled pork chop recipe with the Smithfield Hickory Smoked Brown Sugar Boneless Center Cut Pork Chops. The prep work is basically done for you and this is a totally hassle free, flavor filled option for a busy night!
Of course, if you've got an extra 10 minutes to spare, you can be slathering these pork chops with my Asian inspired Korean BBQ sauce. This sauce is full of soy sauce, garlic, and brown sugar, so you know it's packing some flavor.
It's also got a good bit of sambal oelek in there to give it some spice. I love the bright, clean flavors of sambal oelek, but you can substitute sriracha if that's what you have on hand. They're very similar as far as spiciness, but sriracha has a much stronger garlic flavor. Both are tasty!
I love the way this salty, savory sauce works with the sweetness of the brown sugar already on the pork chops. Divine!
You'll want to be sure to use low sodium soy sauce or else this is going to get quite salty.
This whole recipe is ready in less than 30 minutes! I like to serve this grilled pork chop recipe with white rice for a more Asian thang, but it's also really good with my mama's easy coleslaw recipe or these oven roasted green beans.
These grilled pork chops are perfect slathered in my Korean BBQ sauce recipe!
Smithfield is also challenging you to see what you can do with Marinated Fresh Pork to get a flavorful meal ready in about 30 minutes with their "Real Flavor, Real Fast" contest. For more 30-minute meal preparation ideas, and to submit your original tip for a chance to win great prizes, head to www.SmithfieldRealFlavorRealFast.com.
And if you enjoyed this recipe, check out Smithfield's Garlic and Herb Tenderloin with Apple Ginger Chutney! Yum!!
Korean BBQ Pork Chops
Ingredients:
1/2 cup low sodium soy sauce
3/4 cup brown sugar
2 tablespoons minced garlic
2 tablespoons rice wine vinegar
1 tablespoon chili paste or sriracha
1 teaspoon minced ginger
1 teaspoon sesame oil
2 tablespoons water
1 tablespoon cornstarch
1 package Smithfield Hickory Smoked Brown Sugar Boneless Center Cut Pork Chops
1 tablespoon minced green onions
Directions:
Add the soy sauce, brown sugar, garlic, vinegar, chili paste, ginger, and sesame oil to a small sauce pan over medium heat and stir well.
Whisk together the water and cornstarch and whisk into the soy mixture.
Bring to a boil, whisking often, and cook for 5 minutes or until mixture has thickened a bit.
Remove from heat and set aside.
Place the pork chops on a hot grill and cook for 5 minutes. Flip and brush on the sauce. Cook 3 minutes more.
Flip the pork chops and brush on more sauce. Cook for another 2 minutes or until the pork is cooked through.
Sprinkle with green onions and serve.
Share this: