September 7, 2017
Cinnamon Sugar Chex Mix
Anyone else completely addicted to sweet chex mix recipes? I just can't get enough! This one has cinnamon and sugar and it's sooooo good!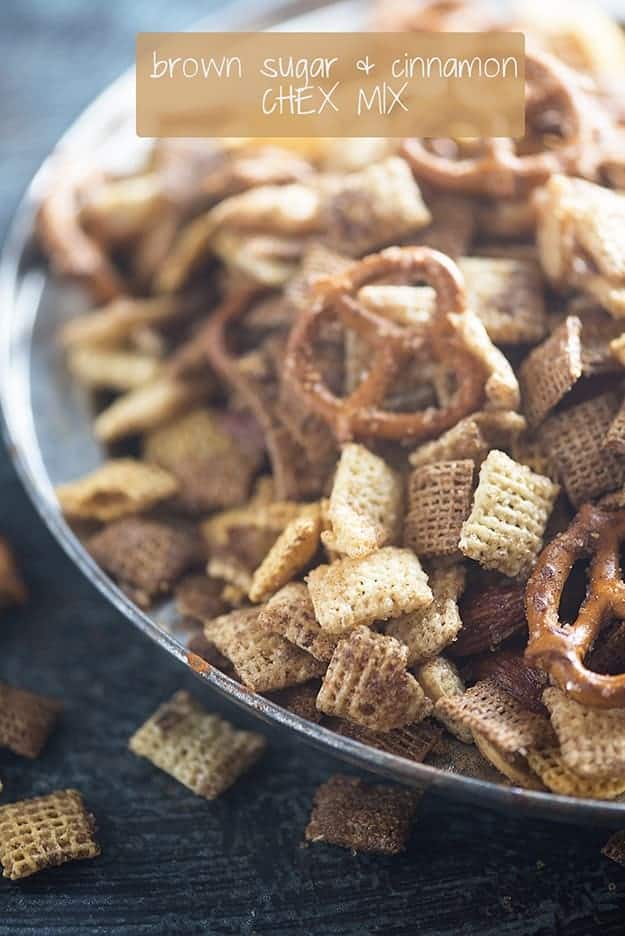 Whew. It's been a long weekend.
A long weekend of devouring this sweet and salty Chex mix every day and every night.
I am obsessed, you guys. There is something so addicting about sweet and salty and cinnamon flavors all in one crunchy snack.
My mama has been dubbed the Chex Mix Queen at my house. Any time we have a get together, she has to bring a big tub of her homemade Chex Mix. It's so good and it always gets eaten in no time. Maybe we need to request that she brings two tubs next time?

I decided to do a little experimenting with a few boxes of Chex cereal I had left over in the pantry and this sweet Chex mix recipe was born. You're going to love it just as much as we do!
I loaded this mix up with three varieties of Chex cereals, mixed nuts, and mini pretzels. The sweetness comes from the sauce! You'll mix together butter, sugar, and cinnamon and drizzle it all over everything and pop it in the microwave, just like a traditional Chex mix.
This is so easy, but it's such a fun twist on the classic Chex mix recipe and everyone goes crazy for it!
I'm kind of wishing that I'd sprinkled in some white chocolate chips after everything had cooled. Next time, for sure!
Hope you guys enjoy this one.
(Psst. You should check out my dill pickle snack mix too!)
Give this sweet and salty Chex mix a try and let me know what you think!
Cinnamon Sugar Chex Mix
Ingredients:
1 ½ cups Rice Chex Cereal
1 ½ cups Corn Chex Cereal
1 ½ cups Wheat Chex Cereal
1 cup mixed nuts
1 cup mini pretzels
¼ cup butter
3 tablespoons white sugar
3 tablespoons brown sugar
2 teaspoons ground cinnamon
Directions:
Add the cereal, nuts, and pretzels to a large microwave safe bowl.
In a small saucepan, melt the butter.
Sprinkle the white and brown sugar and cinnamon over the cereal mixture and pour the butter over the top. Stir well to coat.
Microwave on high for 1 minute. Stir again to coat.
Spread the mixture on a paper towel lined baking sheet to cool.
Store in an airtight container.
Share this: