February 22, 2016
Reese's Puffs No Bake Peanut Butter Bars
Let's talk about Facebook videos and how they are basically ruining my life.
I find myself innocently scrolling through my newsfeed when I run across a video that someone has shared. A food video. A very decadent and delicious looking food video.
And I am suddenly off the couch and in the kitchen making whatever it was I saw in that video. It's getting out of hand.
Most of us have probably seen the graham cracker no bake peanut butter bars video, right? Well. It's dangerous. Those bars are addicting in the worst way. You literally can not stop eating them or making them or thinking about them or talking about them.
So, I banned them from my house. It was for the best, really.

But then I got invited to go visit General Mills headquarters last month to learn about the steps they are taking to remove artificial flavors and colors from their cereals. Did you know that by the end of 2016 90% of their cereals will no longer contain artificial colors or flavors? They'll be using things like tumeric and annato spice for color.  You can read more about the process here.
Anyway, as I said, I was invited to GM to learn more about what they've got going on behind the scenes on this project, but I came down with a stomach bug at the last possible second and had to cancel my visit. This has been the year of sickness in my family. Stomach viruses, the flu, colds…we're getting hit with all of it. Ugh. I'm so ready for summer and fresh air and better immune systems.
So, since I couldn't attend the trip, I still wanted to chat with you guys about what GM is doing since it's a company that I have loved my entire life. This is not a sponsored post. This is just a "hey, I'm sorry I had to cancel on you, I still love you and I know my readers love you, too" post. With a bonus recipe!
Which brings me back to how addicted I really am to those no bake peanut butter bars. I convinced myself that swapping out the graham crackers for Reese's Puffs made them a completely different recipe and that I could totally allow myself to make them and not eat the whole pan. Hey, I'm a grown up and I'll do what I want.
I am happy (sad? scared? nervous?) to report that these are every bit addicting as the original. The Reese's Puffs amps up the peanut butter flavor and gives the bars an extra burst of chocolate sweetness. The texture is spot on. You will not be able to stop at just one of these bars. Proceed with caution. But do proceed, because you really need these in your life!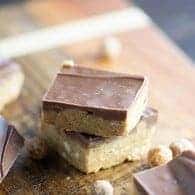 No Bake Peanut Butter Bars
Ingredients:
3 cups finely ground Reese's Puffs cereal
1 cup powdered sugar
1 cup plus 2 tablespoons peanut butter, divided
1/2 cup butter, melted
1/4 teaspoon salt
1 cup semi-sweet chocolate chips
Directions:
Add the cereal crumbs, powdered sugar, 1 cup peanut butter, melted butter, and salt to a medium mixing bowl.
Stir well with a spoon to combine.
Press into a parchment lined 9x9 baking dish.
Melt the remaining 2 tablespoons peanut butter with the chocolate chips in the microwave on low in 20 second bursts until fully melted. Stir until smooth.
Spread chocolate over the peanut butter bars.
Refrigerate for 4 hours before cutting and serving
Follow Buns In My Oven's board Food I Must Eat Immediately on Pinterest.
Share this: