March 21, 2016
Oven Baked Sloppy Joe Dogs

Are you ready for some football?
How about some football food?
I don't know about you guys, but I personally am always ready for football food. I mean, have you seem some of my favorite recipes? Jalapeno Popper Dip Flatbread. Crockpot Pulled Pork. French Onion Soup Burgers. They're all basically made to be eaten on game day.
I teamed up with Persil® ProClean™ 2in1  laundry detergent to bring you the messiest food I could think of for the big game this year. Why messy? Because Persil isn't scared to clean up the tough messes. In fact, Persil begs for the tough messes. It eats tough messes like candy. <—Okay, I'm getting carried away. But, this stuff rocks, is what I'm trying to say. It just got my daughter's shirt clean after spaghetti night. That's saying something. 😉
I have a teenage boy who eats pizza every day he possibly can and manages to get it all over himself. I have an 11 year old girl who once went sledding down a hill of dirt on her butt, because there was no snow and she couldn't find her sled (probably because it was summer).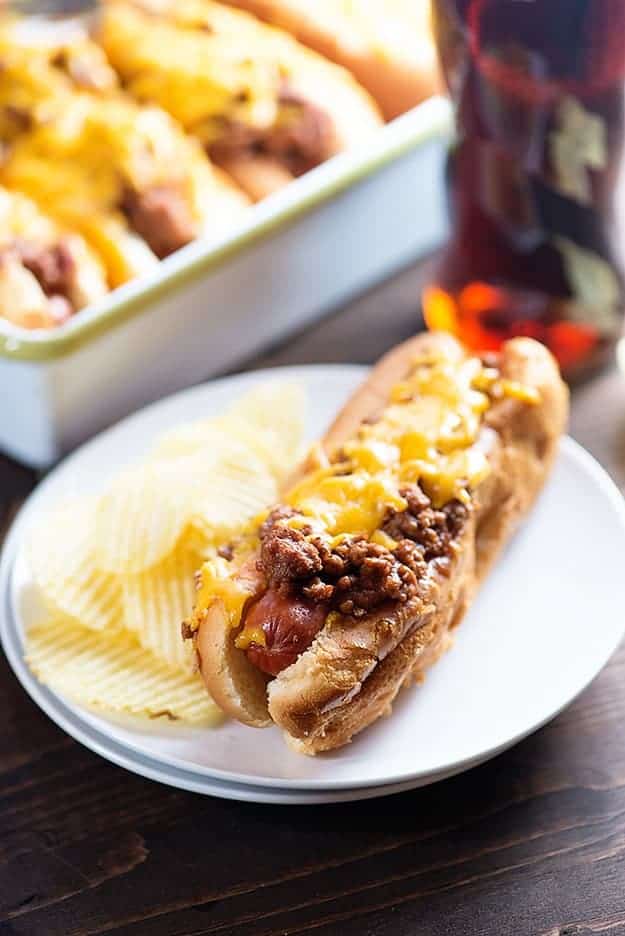 And me? Well, I pretend to be all dainty and lady-like, but the truth is that anyone who knows me, knows that I manage to drop food on my shirt at almost every meal. It's ridiculous.
Persil gets it clean. I'm super impressed.
But don't take my word for it. Hop over and check out the Consumer Reports article about Persil being named their new number 1 detergent. Yeah – a brand that's not been well known in the US is now the top brand of detergent, scoring higher than any other laundry soap!
So, like I said – let's put Persil to the test with these oven baked sloppy joe dogs.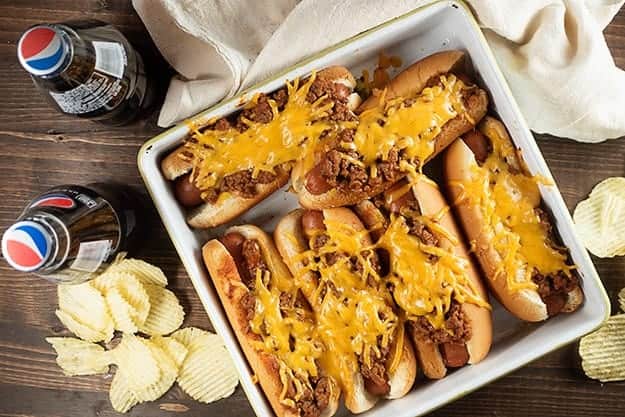 I like this recipe for a couple of reasons.
Number 1) All the hot dogs are baked together at the same time, so everyone can start digging in immediately. No waiting for individual buns to warm or hot dogs to heat up or cheese to melt.
Number 2) It's a hot dog. Covered in sloppy joes. Topped with cheese. Baked until warm and melty.
This dish is super easy to prepare. You'll start with a can of sloppy joe sauce and some ground beef. You'll finish by spooning that mixture over some hot dog buns stuffed with hot dogs and anything else you like. I super loved these with a squirt of mustard and heaping spoonful of relish. The zip from the mustard and relish paired nicely with the sweet sloppy joe sauce.
So, go ahead – dig in. Don't worry about dripping all over yourself. Persil has totally got you covered.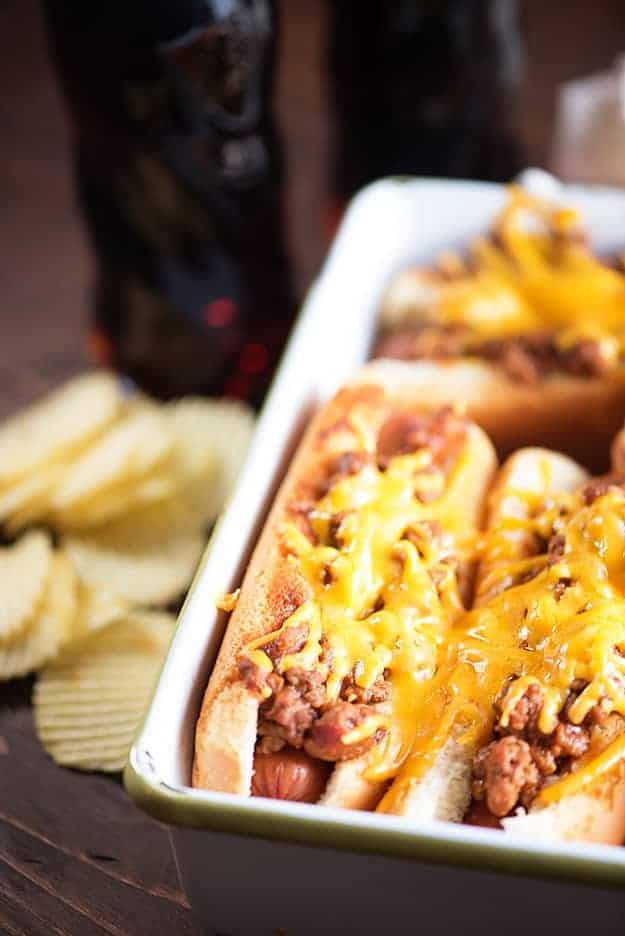 Oven Baked Sloppy Joe Dogs
Ingredients:
1 pound ground beef
1 can (15 ounces) sloppy joe sauce
8 hot dog buns
8 hot dogs
1 cup grated cheddar cheese
mustard, relish, onions as desired
Directions:
Preheat oven to 350 degrees.
Cook the ground beef in a medium skillet over medium heat until cooked through. Drain grease.
Add sloppy joe sauce to skillet and stir well to coat the meat.
Place the hot dog buns in a 9x13 baking dish and fill each bun with a hot dog and mustard, relish, or onions as desired.
Spoon the sloppy joe mixture over the hot dogs and top with cheddar cheese.
Cover dish with foil and bake for 20 minutes.
Depending on how much sloppy joe mixture you stuff in each hot dog bun, you'll likely have a bit leftover. Yay! Leftovers!
This post was sponsored by Persil® ProClean™. All opinions are my own.
Share this: