Jalapeno Popper Dip Flatbread
I made a quick and easy jalapeno popper dip recipe and spread it on some mini naan for a delightful flatbread that's perfect football food! Big thanks to Stonefire for sponsoring this recipe!
Well, we're about halfway there, aren't we? Football season is coming to an end and I can go back to living my life on Sundays without dropping everything to make snacks for my husband and his buddies every time a game comes on.
I'm a little excited. Both because I get to go back to not caring whatsoever about grown men in tight pants knocking each out over an oddly shaped ball, but also because I actually do dig the Superbowl. It's like the Celebration Of The Snacks and I come to win, y'all.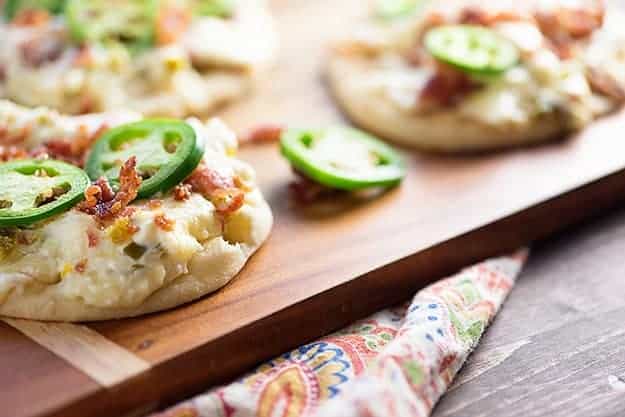 I've been working with Stonefire this year to bring you interesting new recipes featuring their naan, pizza crusts, and naan crisps. Remember my Indian Butter Chicken recipe that I turned into a dip? Mm hmm. Or my Mexican Chicken Flatbread? Yeah, buddy. Get in mah face.
Both are so easy and so good!
Stonefire asked that I put a twist on a traditional favorite and I immediately knew what I was going to do. Jalapeno Popper Dip. Spread on some mini naan. Baked to melty perfection. Served as individual little flatbreads.
I love when I have delicious ideas.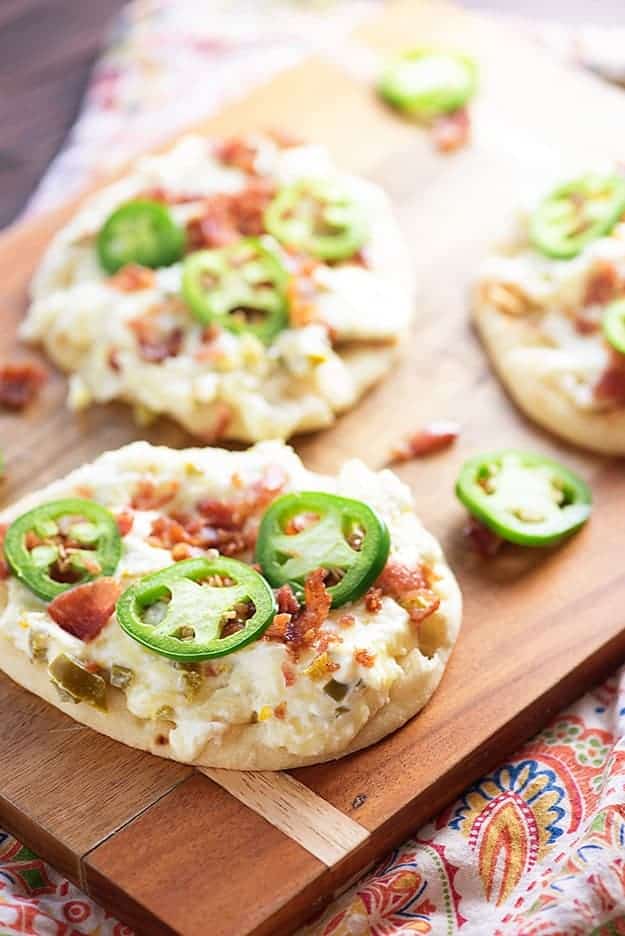 I like to snag the 18 pack of mini naan from Costco and just keep them in my freezer. Stonefire's naan is specially made for the freezer, which means it always tastes great. It comes in a little zip up bag and you just grab what you need and pop it in the oven. It only takes a couple of minutes to warm up, but I usually use them as a base for mini pizzas. They have saved the day quite a few times when I had no idea what was happening for dinner and everyone was glaring at me while their little tummies rumbled.
So, football food. Right here. You want this in your face. It's spicy, it's creamy, it's melty, and did I mention the part where I covered it in fried bacon? Because I did do that. You're welcome.
Jalapeno Popper Flatbread
Ingredients:
8 Stonefire Mini Naan, fresh or frozen
4 ounces cream cheese, room temperature
4 ounces Monterey Jack cheese, grated
2 tablespooons powdered Parmesan cheese
2 tablespoons mayonnaise
1/4 -1/2 cup diced jarred jalapeno peppers
8 slices bacon, fried crisp
extra jalapeno slices for topping, as desired
Directions:
Preheat oven to 400 degrees.
Place the naan on two large baking sheets.
Add the cheeses, mayonnaise, and diced jalapenos to a medium bowl and stir well to combine.
Spread the mixture over the naan.
Finely dice the bacon and sprinkle over the naan.
Top with extra slices of jalapeno, as desired.
Bake for 8 minutes. Serve hot or at room temperature.