October 8, 2015
Carrot Custard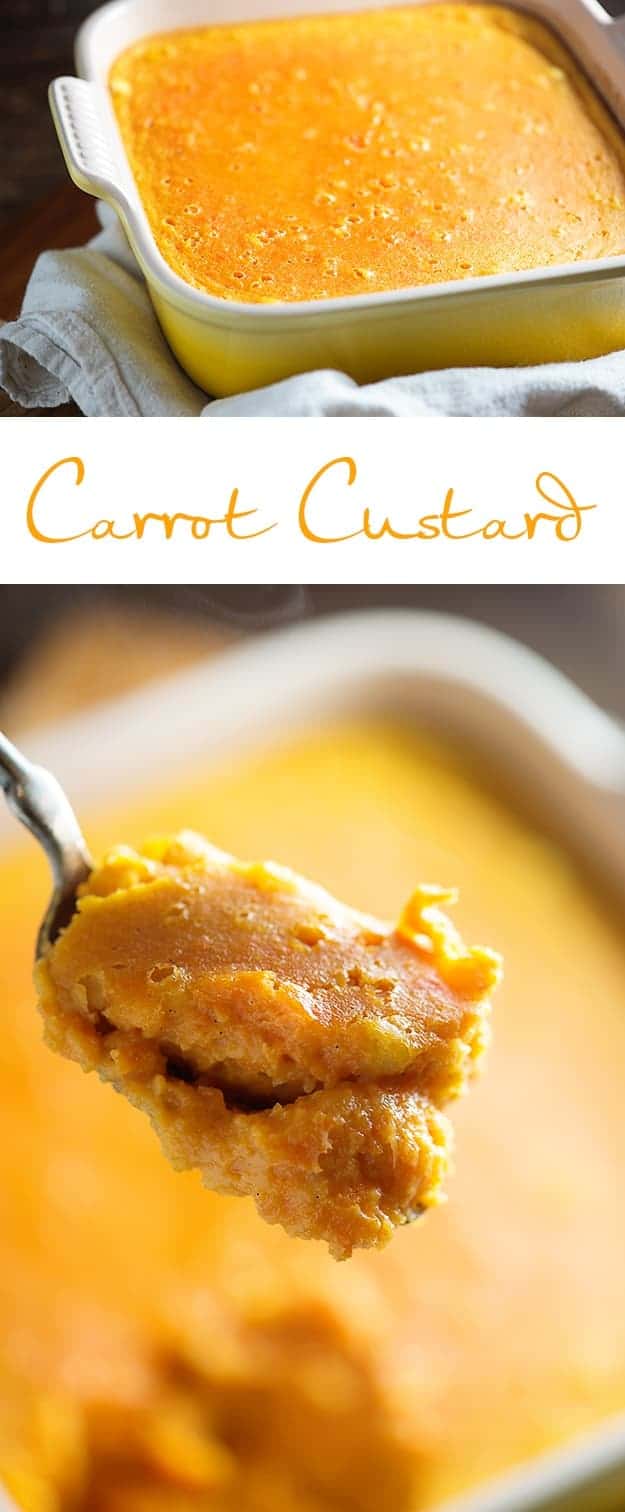 Let me tell you a little something about things that I am passionate about. You know, besides grape jelly meatballs, Nutella brownies, and oven fried chicken strips.
I'm passionate about women. I'm a total feminist.
I'm extra passionate about women entrepreneurs. Starting something from scratch, making it yours, making it successful, taking charge and being what you want to be. Like a girl. Like a boss. I love it.
So, when my friend and fellow blogger, Kathy of Panini Happy, started her own publishing company I was pretty dang impressed and proud of her. Yes. So much yes.
And when she launched a Kickstarter to help fund the publishing of her latest book, The 8×8 Cookbook, and it raised half it's goal in just a couple of days? Damn, girl. Git it.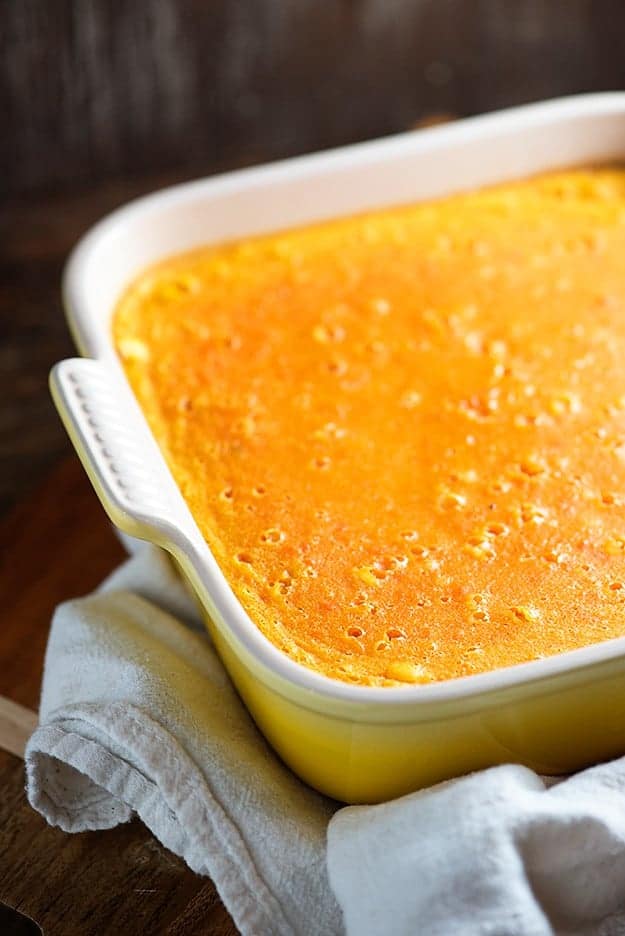 And that's why I'm here, sharing a recipe from The 8×8 Cookbook. Because I like what Kathy's doing and because I super like what this book is all about. Go check out her Kickstarter campaign and watch the video she made about the book. Get excited. I did. I pretty much never use an 8×8 pan, but now I can see so much dinner potential.
If you help back the project, you can get signed copies of the book and an adorable t-shirt designed by Kathy's daughter.
To help you fall in love with the book, I'm sharing this carrot custard. Let me repeat that: Carrot Custard.
It's like pumpkin pie filling, but with carrots. And it's for dinner instead of dessert. Although, I can totally see myself topping it with a dollop of whipped cream and eating the whole thing cold, straight from the pan, in the middle of the night – just like I do with pumpkin pie.
I love the colors in this dish and I love the warm, Fall flavors. I think you will, too. Give it a try and let me know?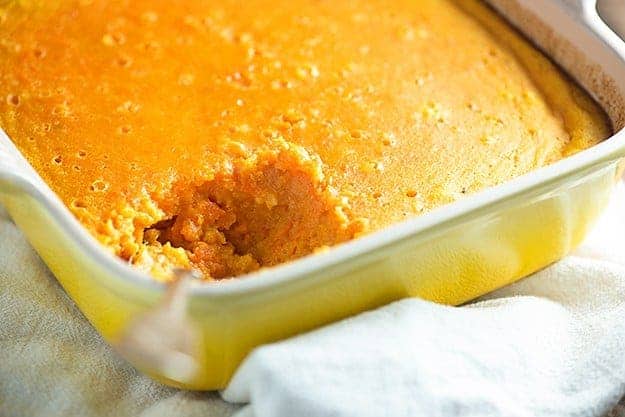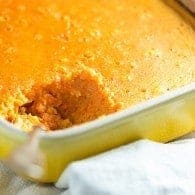 Carrot Custard
Ingredients:
1 pound carrots, peeled and quartered
2 eggs
1/2 cup sugar
1 cup flour
1/4 cup vegetable oil
1/4 cup unsweetened apple sauce
2 cups whole milk
2 teaspoons vanilla extract
1 teaspoon ground cinnamon
Directions:
Heat oven to 325. Spray an 8x8 baking dish with non-stick spray.
Place the carrots in a microwavable safe bowl. Add 2 tablespoons of water and cover with plastic wrap or a lid. Microwave for 8 minutes or until carrots are tender. If they are still firm, continue cooking for 2 more minutes.
Place cooked carrots in blender or food processor and puree.
Add carrots to large bowl.
In a medium bowl, whisk together remaining ingredients. Pour into carrot mixture and whisk to combine, taking care not to overbeat the mixture. If air bubbles form, let sit until they deflate and then continue.
Pour mixture into baking dish and bake for one hour or until custard is set but still slightly wobbly in the center. Custard will firm up as it cools.
Serve warm.
Share this: