Roasted Green Beans with Creamy Dipping Sauce
If you're wondering how to cook green beans, these oven roasted green beans are for you! This is the best green bean recipe I've made in a long time and the dipping sauce just adds to the fun!
So, you want to know my usual way to eat a green bean?
This green bean recipe right here. I make it as often as possible. Both of my kids eat it, which is a miracle, and it's really not too difficult!
But, you guys. I have a new found green bean love. I toss them in Parmesan cheese and then I roast them.
And then I stand over the cookie sheet full of crispy green goodness and I point at each individual bean and say "Mine. Mine. Mine."
Sorry, kids. This dish is for mama, you can't have any, don't even ask.
I mean, they don't, like, need nutrients or anything, right? Kids are resilient. They'll be fine with their box of mac and cheese while I hoover in the green beans.
Of course, I wouldn't be me if I didn't fatten things up with this seriously creamy dipping sauce. It's tangy and garlicky and maybe sometimes you'll find yourself eating it with a spoon. Who can say, really?
This recipe just so happens to be low in carbs and high in fat (when you add the dip), which is perfect for my keto diet. It also happens to be downright amazing, so I eat these even when I'm not doing the low carb thing.
I've only tried this recipe using fresh green beans, but I plan to give them a try with a big bag of frozen beans sometime soon. I kind of hate trimming green beans and yet, I seem to manage it every other night because that's how addicted to these green beans I am. They're almost like french fries and I'm in love.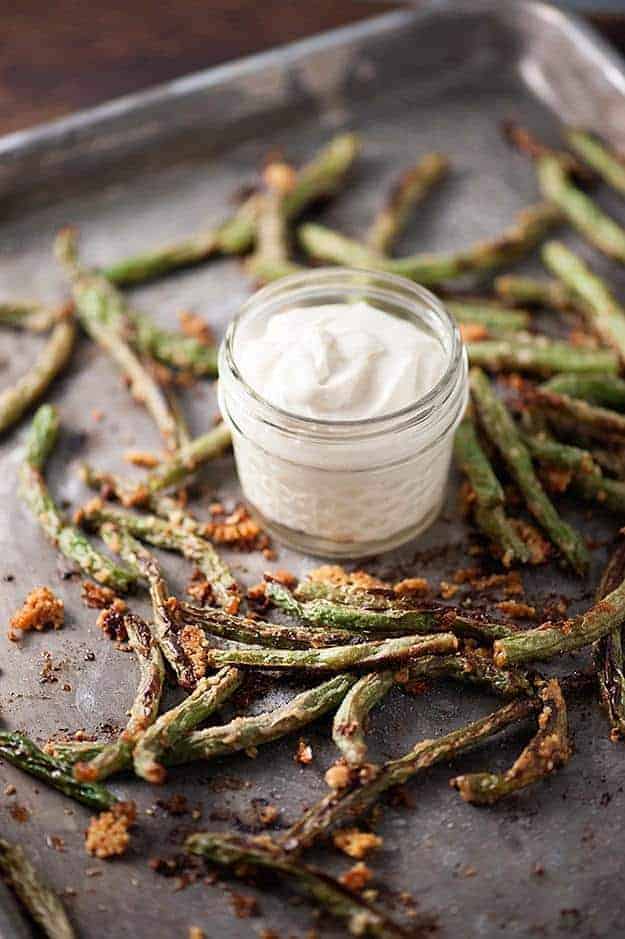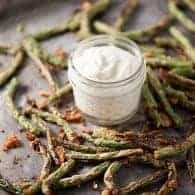 Roasted Green Beans with Creamy Dipping Sauce
Ingredients:
1 pound fresh green beans, rinsed and trimmed 1/4 cup Parmesan cheese (the powdery kind from the green can) 1 tablespoon olive oil 2 tablespoons mayonnaise 1 teaspoon dijon mustard 1/2 teaspoon garlic powder salt and pepper, to taste
Directions:
Preheat the oven to 400 degrees. Toss the green beans, oil, and Parmesan cheese together to coat. Spread onto a rimmed cookie sheet and bake for 20 minutes, stirring halfway through. Cook longer, as needed, to reach your desired level of doneness. While the green beans are cooking, stir together the mayonnaise, mustard, and garlic powder in a small bowl. Set aside until ready to serve. Salt and pepper the green beans and serve with the dipping sauce.