March 16, 2015
Monster Cookies
If you're looking for a new favorite monster cookie recipe, this is the one! I started with our family favorite soft peanut butter cookies and added oats and candies to turn them into these easy monster cookies!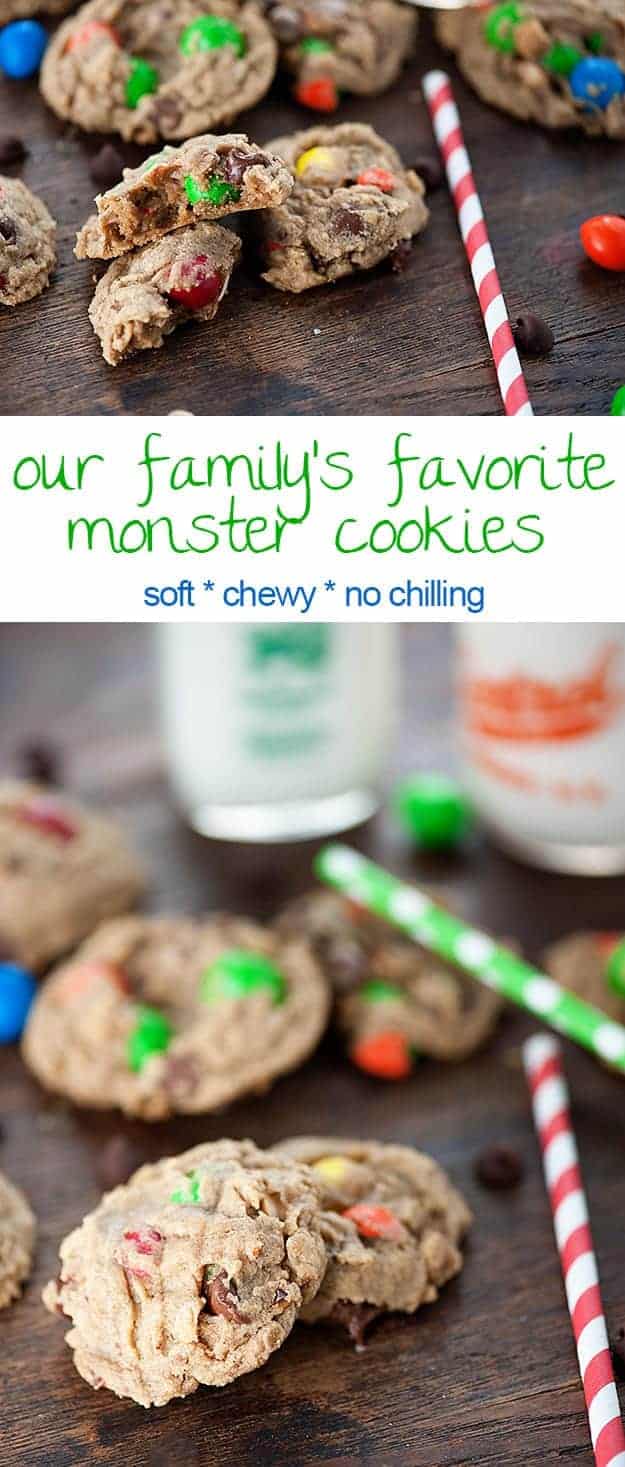 You know, I have not been baking cookies too often around these parts and that has just got to change!
I think my problem is that my husband, the cookie monster in this house, works out of state. He's only home on the weekends and I am very decidedly against the idea of working on the weekends.
Sure, I'll make him some of our favorite cookies here and there, like these soft peanut butter cookies or our graham cracker cookies, but I don't spend much time experimenting with new recipes.
When the husband is home, there is no work happening in my house.
So, when he was home last weekend, standing there freshly showered and adorable looking, scrounging around in the kitchen for his morning dose of cookies, I couldn't resist answering "sure" when he turned his gorgeous eyeballs at me and asked for monster cookies.
I mean, the man's eyes are mostly green, but sometimes blue, and I just can't say no to them. Unless, of course, he's asking me to remember to take the garbage out to the road for once while he's gone. That's never going to happen, Chad. Sorry 'bout it.
Anyway, enough about hot husbands. Let's talk about cookies!
When I realized that I hadn't shared our family's favorite monster cookies with you on the blog, I knew I was going to have to break my "no working on the weekend" rule and photograph some of those cookies to share with you guys!
I start with my soft peanut butter cookie base, because it is the all time best peanut butter cookie recipe. If you haven't tried it, you must.
Then I just swap out a little flour for some oats and add in some m&m candies. The recipe is so easy to make and best of all, there is no chilling required! In fact, these cookies bake up so perfectly round that you'll want to flatten them slightly with a spoon unless you like big round cookie balls.
I always use my cookie scoop to ensure that I get evenly sized cookies. It truly makes cookie baking easier and it takes so much less time than using a regular spoon. This is the cookie scoop I use.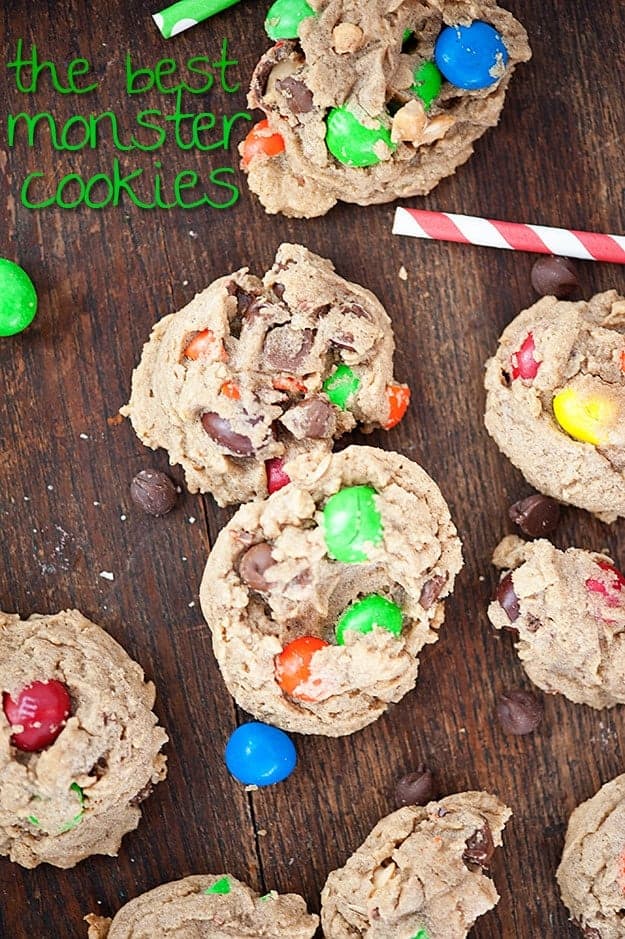 Monster Cookies
Ingredients:
1/2 cup butter, softened
1/2 cup peanut butter
3/4 cup brown sugar
1/4 cup white sugar
1 egg
1 teaspoon vanilla
1 1/4 cups flour
1/2 cup instant oats
1 teaspoon baking soda
1/4 teaspoon salt
1 cup peanut m&m candies
1/2 cup milk chocolate chips
Directions:
Preheat oven to 350 degrees and line a cookie sheet with parchment paper.
In the bowl of a stand mixer, cream together the butter, peanut butter, and sugars until light and fluffy. Beat in the egg. Stir in the vanilla.
In a medium bowl, combine the flour, oats, baking soda, and salt. Gradually add to the creamed mixture and beat until well combined.
Stir in the m&m candies and chocolate chips.
Drop spoonfuls of dough onto baking sheet 2 inches apart and flatten slightly with the back of a spoon. Bake for 8 minutes exactly.
Let the cookies set on the baking sheet for 5 minutes to set up before transferring to a wire cooling rack.
This post contains affiliate links.
Share this: