December 29, 2014
Caramelized Onion and Crispy Prosciutto Dip
Do you ever feel fancy?
I mean, it doesn't happen super often for me. I work from home. In my pajamas. With food in my hair and counters piled with dirty dishes.
Sometimes, though, the little things can make me feel fancy, regardless of the state of my house or the yoga pants that I have worn for three days straight.
Cheese is one of those things. Good cheese, specifically. And if you pair it with crispy prosciutto? Well, then.
When Roth reached out to me and asked if I'd be interested in creating a few recipes for them using their signature Grand Cru cheese, I was like heck to the yeah. I would love to do such things. I might even put on some heels for this project, except no. Maaaaaaybe a little lipstick though. No promises. Too much fancy isn't good for my health.
Grand Cru is an alpine-style cheese made in Wisconsin and used to go by the name of Grand Cru Gruyere. It's the same product, but they've dropped Gruyere to honor the traditional cheesemakers in the Gruyere region of Switzerland. Kind of like champagne is only called champagne when it comes from the Champagne region of France. If you've tried this cheese before, you'll be happy to notice that nothing else has changed other than the name. It's still as nutty and full bodied as ever.
So, I made this dip right on the stove top. I'm all for baked dips, but sometimes I just want to eat my food right now please. No waiting. Shovel the dip into my face hole as quick as possible, no judging, please.
The sweet caramelized onions, the crispy and salty prosciutto, and the roasted garlic all work so well with the nutty cheese. It's already a creamy cheese when melted, but I mellowed it out and made it even creamier with some good old cream cheese. Grand Cru is a fairly strong cheese and this dip is perfect for a true cheese lover. If you like your cheese and/or dip to be a bit milder, swap 2 ounces of the Grand Cru for 2 ounces of Monterey Jack.
Spread this stuff on a nice French baguette, toasted or not. It's also pretty great on tortilla chips.
I think this would make a perfect New Year's Eve appetizer! You can even pop it in the slow cooker on warm for a few hours so that your guests can enjoy it nice and melty.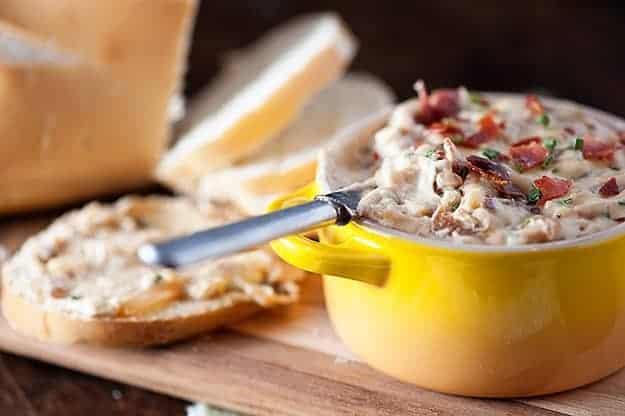 Caramelized Onion and Crispy Prosciutto Dip
Ingredients:
1 head garlic
1 teaspoon olive oil
2 sweet onions, diced
4 tablespoons butter
3 ounces prosciutto
4 ounces cream cheese
6 ounces Grand Cru cheese, grated
2 tablespoons chopped chives
1/4 cup milk
Directions:
Preheat oven to 375 degrees.
Slice off the top of the head of garlic and discard. Drizzle the head of garlic with olive oil so that it seeps down into the cloves. Wrap in foil and place on a baking sheet.
Roast for 30 minutes.
Meanwhile, add the butter to a medium skillet over medium heat. Let melt.
Once the butter has melted, add the onions to the skillet and stir to coat. Let cook for five minutes, stirring occasionally. The onions should start to turn brown. Continue cooking until onions are very soft, about 15 minutes. Stir every few minutes. Add a couple of tablespoons of water if you notice the onions starting to stick to the pan. The water will cook off quickly.
While the onions and garlic are cooking, place the prosciutto on a baking sheet in a single layer and bake for 15 minutes. Remove from the oven and let cool. Once cooled, chop or crumble into small pieces. Set aside.
When the onions are browned and soft, reduce the heat to low. Add the cream cheese to the pan and stir constantly until it has melted.
Stir in the Grand Cru until very soft and nearly melted. Stir in the chives and milk.
Squeeze two to three cloves of the roasted garlic into the cheese mixture and add in the prosciutto. Stir well until everything comes together.
Serve immediately or transfer to a slow cooker set to warm.
This recipe was developed by me for Roth. I received compensation for my time. All opinions are my own.
Share this: