November 17, 2014
Bacon Stuffing
I have a confession, guys.
I'm a lying liar who lies.
This recipe is actually for dressing, but every single person I know calls dressing stuffing. Do you know the difference?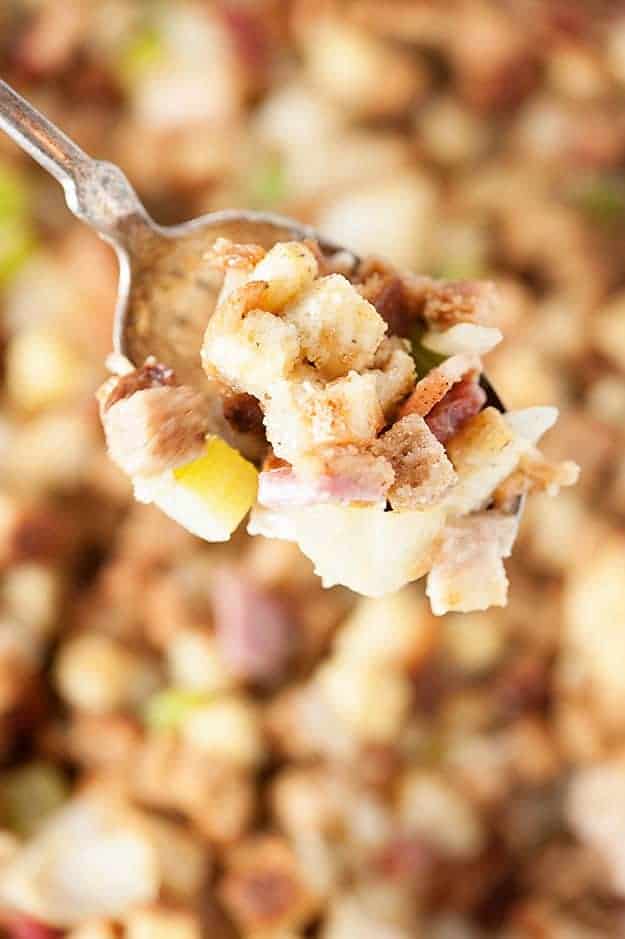 Stuffing is actually stuffed inside of a turkey. Dressing is baked in a casserole dish alongside the turkey (or alongside whatever you want).

See? I called this recipe stuffing, but actually it's dressing and that makes me a liar.
Forgive me?
The good news is that it really doesn't matter what you call it, this is goooooood stuff. I have a favorite sausage dressing recipe that I make every single year for Thanksgiving and Christmas, but my mama doesn't like sausage and so she never eats it. It makes me all sad, because it is seriously amazing stuff and she's missing out.
I was dreaming about my sausage dressing the other day when I had an epiphany. A bacon epiphany. They're both pork, they're both delicious and fatty, I could totally swap one for the other.
And I did and it was glorious. I did change this recipe a bit by replacing one can of the cream of chicken soup with chicken stock. If you want things extra creamy, use all cream of chicken soup. If you want things more traditional, follow the recipe as written below. And, if you hate hate hate the cans of cream of glop soup, use my cream of chicken soup substitute.  It's super easy and way healthier!
Oh, and before you go, back in 2012 I created a round of my favorite Thanksgiving sides. I've since shared new recipes, but these are still winners! Check 'em out, but ignore the craptastic photos. I was still learning.
So tell me…what does your family make every year? Dressing or stuffing? Inquiring minds want to know!
Bacon Stuffing
Ingredients:
1 pound bacon, diced
1 sweet onion, chopped
2 stalks celery, chopped
14 ounces herb seasoned stuffing mix
10 ounce can cream of chicken (or my cream of chicken soup substitute)
10 ounces chicken stock
Directions:
Preheat oven to 350 degrees.
Add the diced bacon to a large skillet over medium heat and cook, stirring often, until crisp.
Add the onion and celery to the pan with the bacon and the drippings. Continue cooking, stirring often, until the vegetables have softened, about 5 minutes.
Add the dry stuffing mix to a large bowl Pour in the bacon, vegetables, and any drippings from the pan. Add the cream of chicken soup and the chicken stock. Stir to combine well.
Pour the mixture into a 9x13 pan and spread evenly. Cover with foil and bake for 20 minutes.
Remove the foil and continue baking for 10 minutes.
Serve hot.
Share this: