August 27, 2014
What's Cookin' Wednesday #83 (And some exciting news!)

I have something exciting to share with all of you party people today!
I teamed up with 30+ amazing bloggers to bring you alllllll of our secrets so that you can rock your own blog! This e-book is full of SO MUCH amazing information and I know that you will love it. Whether you are just thinking about starting a blog of your own, still new to this blogging thing, or just feel like everyone else is doing it better (who doesn't feel that way?! I know I do!), this book is for YOU.
I wrote a little section about writing and connecting with readers and I share my suuuuuper secret tips for connecting with your audience and staying ahead of the game.
This e-book will show you how to start a blog, write your posts, use social media, get your content seen, get organized, make money, and GROW YOUR BLOG!
Sorry for all of the caps lock. I'm just really excited to share this book with you, because I've read it and the information inside of it is just amazing and informative and I really think you'll all love it!
 Click here to view more details and purchase the book! It's an instant download, so you can start learning and growing your blog immediately!
Now, back to our regularly scheduled programming and on to the drool-worthy features!

This makes me cry tears of joy. You? Crepe Cake with Chocolate Ganache from Food Faith Fitness.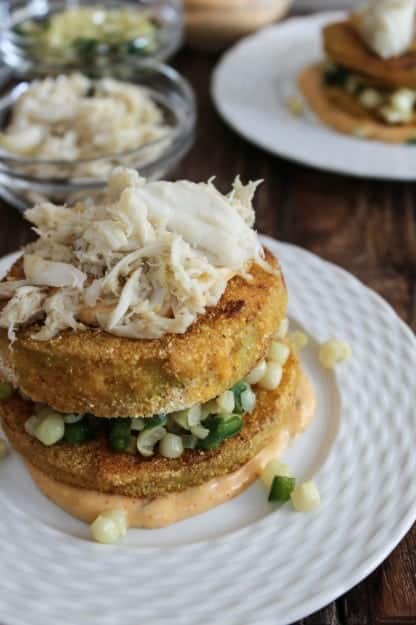 Where have these Fried Green Tomato Stacks with Corn and Crab from Bites of Bri been all my life??
I can always go for S'mores Bars from What's the Fork Blog.
Oh, I love the vibrant purple in this Blueberry Cheesecake Ice Cream from Blahnik Baker.
Is it time for dinner yet? Skillet Tomato Casserole with White Beans and Parmesan from The Law Student's Wife.
How perfect is this Hostess Cupcake Layer Cake from Flavor the Moments?
This whole pan is one serving, right? Loaded Bacon and Cheese Fries from Love Bakes Good Cakes.
Share this: