June 17, 2014
Pimento Cheeseburger with Fried Jalapenos
Can we talk about these burgers for a minute? Each one is a half pound of beef, seasoned to perfection, smothered with my favorite creamy pimento cheese, and then topped with spicy, tangy fried jalapeno peppers. Hello, perfection.
My kids were out of state visiting the grandparents a couple weeks ago so I whipped these burgers up for me and the husband. Usually I stretch a pound of ground beef out over four burgers. Two bigger ones for the boys and two smaller ones for the girls. This time? Nope. Two big mama burgers. I wasn't foolin' around.
I think I created a monster though, because my husband is no longer down with his normal sized burgers. He wants half pounders for life. Can't say I blame him either.

The pimento cheese that I used to top these was homemade and I strongly suggest you use homemade yourself. The kind you can buy at the grocery store (at least the kind in the stores around here) is not so good. It's highly processed, weird, neon orange cheese with little red specks floating throughout. My pimento cheese recipe is super creamy, but still made with real cheese and lots of pimentos scattered throughout. You can swap out the monterey jack cheese for pepper jack to give things an extra kick.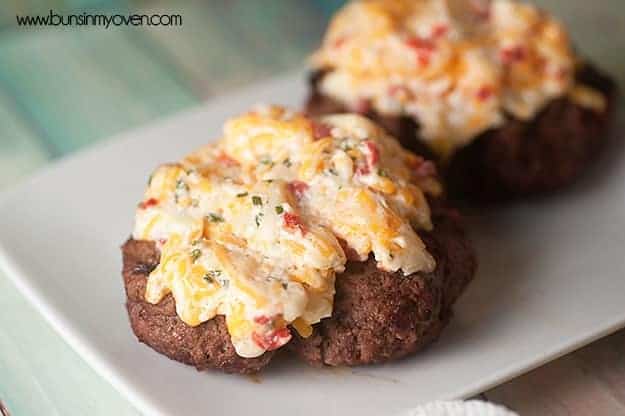 I fried up the jalapenos in a super simple batter. Please don't skip out on these. They're so good and add the perfect tangy crunch to the burgers. If you're a wimp, use tamed jalapenos (that's what I did!) or just fry some pickles instead. Either way, you need something crunchy and fried to top all that creamy cheese. Why? Because I said so.
You also want to butter your buns and grill them. Just trust me on that. My husband insists that he likes cold buns straight from the package and I insist that he is insane, because no. Buttered and grilled buns are where it's at.
Give these a try the next time you fire up your grill! They'll be a new summer favorite, for sure!
Pimento Cheeseburger with Fried Jalapenos
Ingredients:
For the burgers:



1 pound ground beef, 80/20
1 tablespoons Worcestershire sauce
1 teaspoon salt
1/2 teaspoon garlic powder
1/2 teaspoon onion powder
1/2 teaspoon ground black pepper
2 hamburger buns
2 tablespoons butter, softened
For the fried jalapenos:

1/2 cup jarred pickled sliced jalapenos
1/4 cup flour
1/4 cup milk
1 tablespoon juice from jar of jalapenos
1/2 teaspoon salt
oil, for frying
For topping the burgers

1/2 cup pimento cheese
mayonnaise
Directions:
To make the burgers, use your fingers to gently knead the Worcestershire sauce and the seasonings into the ground beef. Lightly pat into two large patties. Use your thumb to make an indention in the center of each patty. This will help your burgers keep their shape while cooking.
Cook on a hot grill for 5 minutes per side or until nearly cooked to the temperature you prefer. About 2 minutes before burgers will be done, top each burger with 1/4 cup of pimento cheese. Continue cooking until the cheese is beginning to melt and the burgers are done to your liking. Remove from grill and set aside. While burgers are cooking, make the fried jalapenos.
In a small bowl, whisk together the flour, milk, jalapeno juice, and salt. Stir in the jalapeno slices to coat. Fry the battered jalapenos in 2 inches of hot oil until golden brown, flipping halfway through, about 1 minute per side. Drain on a paper towel lined plate.
Top each bun with a tablespoon of the butter and grill for 1 minute per side or until lightly toasted.
Spread mayo on the bottom of each bun. Top with a burger and fried jalapeno slices. Serve immediately.
Share this: