June 10, 2014
Pretzel Crusted Fudgy Peanut Butter Brownies
My husband apparently doesn't know me very well. It's kind of sad.
You see, when someone asks me to do something, I do the exact opposite. It can be a problem.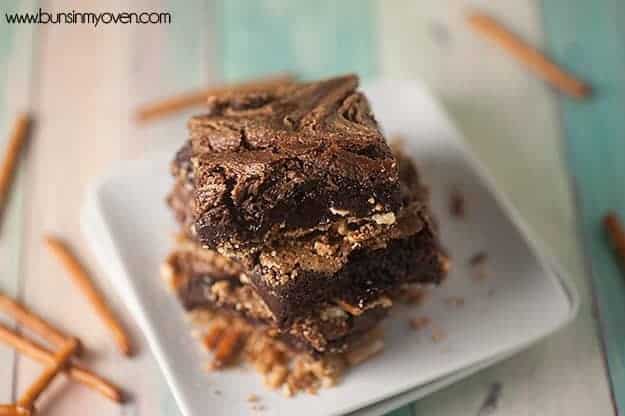 "Honey, you really need to wash your car." My car will never be washed again.

"Hey, don't forget to call the plumber today." We can dig a hole out back and use that, like in the olden days! It'll be fine.
"You haven't made my favorite sausage egg rolls in a long time." And now I never will again.
So, you would think the man would have learned after 14 years of marriage not to mention the empty cookie jar. But, no. He had to bring it up.
"This cookie jar has been empty for a really long time now." We may as well smash it to bits, because you're never getting cookies again.
I did make him brownies though! I mean, I'm not a horrible person. Just a kind of bad person. See?
These brownies have a sweet, salty, crunchy bottom that's made out of pretzels, butter, and sugar. So, basically heaven. I used my favorite brownie batter that always bakes up thick and fudgy. It's dotted with dark chocolate chips for extra chocolate oomph. And, just for fun, I swirled some melty peanut butter over the top of things.
Enjoy these, guys! They're delightful.
Pretzel Crusted Fudgy Peanut Butter Brownies
Ingredients:
For the crust:
4 cups pretzel sticks
6 tablespoons butter, melted
1 tablespoon sugar
For the brownies:
1 cup (2 sticks) butter
2 1/4 cups sugar
4 large eggs
1 1/4 cups cocoa powder
1 teaspoon salt
1 teaspoon baking powder
1 teaspoon espresso powder, optional
1 tablespoon vanilla extract
1 1/2 cups all-purpose flour

1 cup peanut butter
Directions:
Preheat oven to 350 degrees.
To make the crust, place the pretzel sticks into a food processor or blender and process until you have fine crumbs. Mix with the melted butter and sugar. Press into a foil lined 9x13 baking dish.
To make the brownies, in small saucepan over low heat, melt butter completely. Stir in sugar and continue cooking for 1-2 minutes, stirring constantly. Do not allow sugar mixture to boil.
Pour butter mixture into a large bowl or stand mixer. Beat in cocoa powder, eggs, salt, baking powder, espresso powder, and vanilla extract. Mix until well combined.
Stir in the flour until just combined.
Spread over the pretzel crust (batter will be very thick and sticky). Melt the peanut butter in a microwave safe dish. Pour over the brownie batter and swirl into the batter with a knife. Bake for about 30 minutes, until a tester comes out mostly clean. The edges should be set and the center should still look slightly moist, but not uncooked. Cool on a wire rack.
Share this: