April 1, 2014
Oven Fried Spicy Ranch Chicken Strips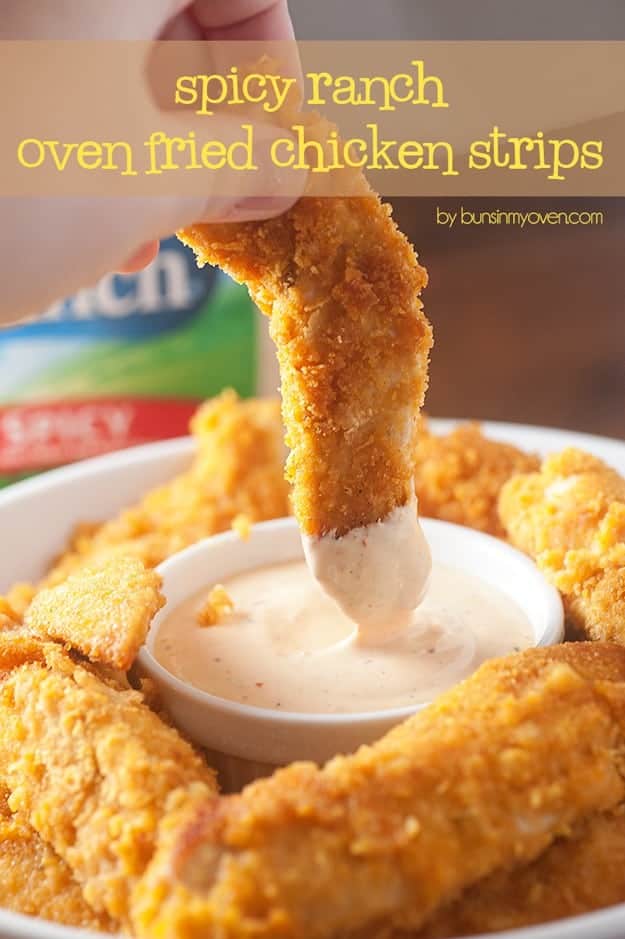 My daughter has been on such a chicken nugget/chicken strip kick lately. It's all chicken, all the time up in these parts.
I don't do well repeating dinners over and over. I mean, it's my job to create new recipes, quit asking for chicken nuggets, oh my word child, go away. Right?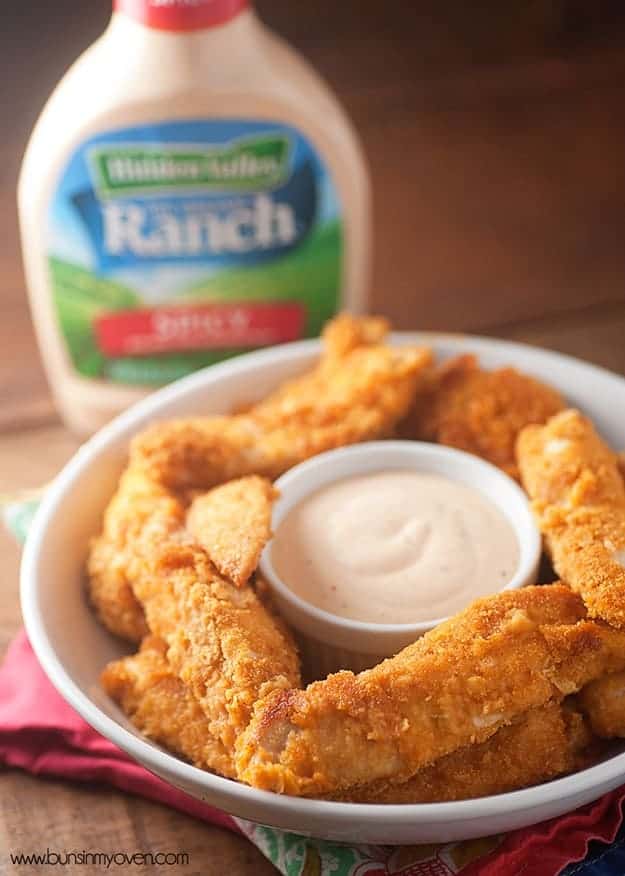 So, I put a spin on our favorite oven fried chicken strips that you all seemed to love when I shared the recipe last time. These chicken strips are so good and they literally fry themselves in butter while baking in the oven. How can you beat that?
I wanted to kick things up a notch, flavor wise, so I coated my chicken pieces in Hidden Valley's Spicy Ranch Dressing.
Ohhh, you guys. Such a good decision. This dressing isn't too spicy. My wimpy people (the husband and daughter) gobbled these up without a complaint. These were just mild enough for them, but not so mild that the brave, strong, cool people of my family (me and my son, haha) were disappointed. My son and I did add a couple dashes of hot sauce to our Spicy Ranch to kick things up even more when we were dipping.
These were a perfect week night meal, going from start to finish in well under 30 minutes. I served these chicken strips with a side of corn and peas. Such an easy dinner that everyone loved!
Oven Fried Spicy Ranch Chicken Strips
Ingredients:
8 tablespoons butter 1-1/4 pounds chicken breast tenders 1 cup Hidden Valley Spicy Ranch Dressing 1 tablespoon milk or bottled hot sauce 1-1/2 cups panko bread crumbs
Directions:
Heat oven to 400 degrees. Add the butter to a large rimmed baking sheet and place in the oven until the butter has melted. Remove from the pan from the oven and set aside. Add the ranch dressing to a pie plate and thin it out with 1 tablespoon of milk or hot sauce, depending on how spicy you want things. Stir to combine. In a separate pie plate, add the panko bread crumbs. Coat each piece of chicken in the ranch dressing and then the bread crumbs, pressing so they adhere to the chicken. Place each piece of chicken on the baking sheet in the melted butter. Return to the oven and bake for 8 minutes, flip each piece of chicken over, and continue baking for about 10 minutes or until the chicken is cooked through.
From dressings and dips to sandwich spreads and side dish solutions, the special blend of herbs and spices makes Hidden Valley the perfect addition to any recipe. For more delectable ranch recipes, visit www.hiddenvalley.com.
This is a sponsored conversation written by me on behalf of Hidden Valley Ranch. The opinions and text are all mine.
Share this: