February 21, 2014
Fudge Frosted Peanut Butter Blondie Bars
You guys. I have done something major here. Like, put me down in the history books or something, because this is big.
I perfected chocolate frosting.
This stuff…oh. It's divine. It's so fudgy and rich and just plain perfect.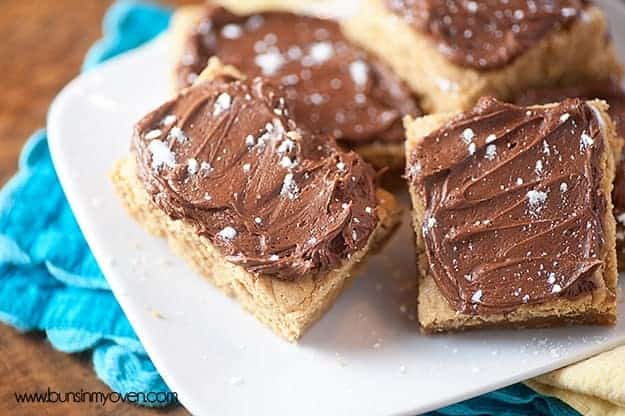 I really love fudgy chocolate frosting, but I've always struggled getting it just right. I don't like cooca frosting recipes and I don't have a ton of success with melted chocolate recipes. Then it hit me. If you want fudgy frosting, why not add hot fudge?
You may have noticed that I have an obsession with hot fudge? Hello, hot fudge banana bread, sundae cookie bars, hot fudge peanut butter bars, and hot fudge strawberry donut pudding.
Well, hot fudge is absolutely amazing in frosting. This recipe is super similar to the jars of frosting you can get by the cake mixes, without the weird after taste (am I the only one who notices the chemical aftertaste in pre-made baked stuff these days?) and you know exactly what is going into this recipe. Well, except for the hot fudge, but you could totally go homemade with the fudge ripple in this Peanut Butter Fudge Ice Cream recipe!
Anyway, I insist that y'all try this frosting! I slathered it on the most amazing peanut butter blondies ever! They just melt in your mouth!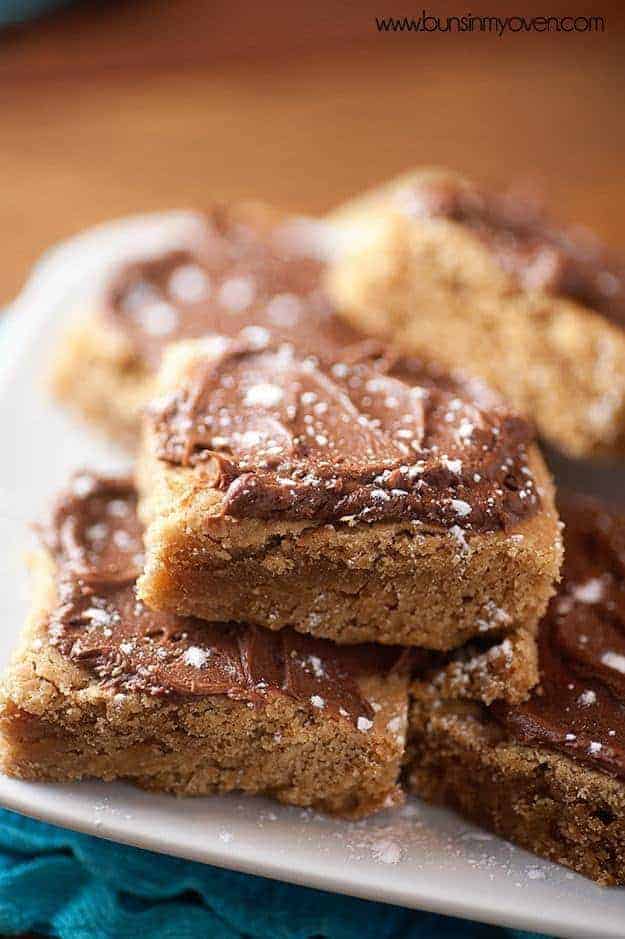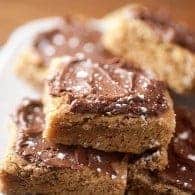 Fudge Frosted Peanut Butter Blondie Bars
Ingredients:
For the bars:
1 1/3 cups packed brown sugar
1/4 cup butter, melted
1/2 cup creamy peanut butter
1 tsp vanilla
3 eggs
1 1/2 cups all-purpose flour
3/4 tsp baking powder
1/4 tsp baking soda
1/2 tsp salt

For the frosting:

1/2 cup butter, softened
1/2 cup hot fudge ice cream topping
1 cup powdered sugar
3 tablespoons unsweetened cocoa powder
1 tablespoon heavy cream or milk
1 teaspoon vanilla
1/4 teaspoon salt
Directions:
To make the bars:
Preheat the oven to 350 degrees. Spray a 9x13 baking dish with non-stick cooking spray.
In the bowl of a stand mixer, beat together sugar, peanut butter, butter, vanilla, and eggs until well blended. Mix in flour, baking powder, baking soda, and salt.
Spread into baking dish and bake for 25-30 minutes or until a tester comes out fairly clean.
Let cool completely before frosting and cutting.
To make the frosting:
Add the butter and hot fudge to the bowl of a stand mixer fitted with the whisk attachment. Beat until well combined. With the mixer on low, slowly add the powdered sugar, cocoa powder, cream, vanilla, and salt. Beat until well combined.
Share this: