February 7, 2014
Fluffernutter Baked Donuts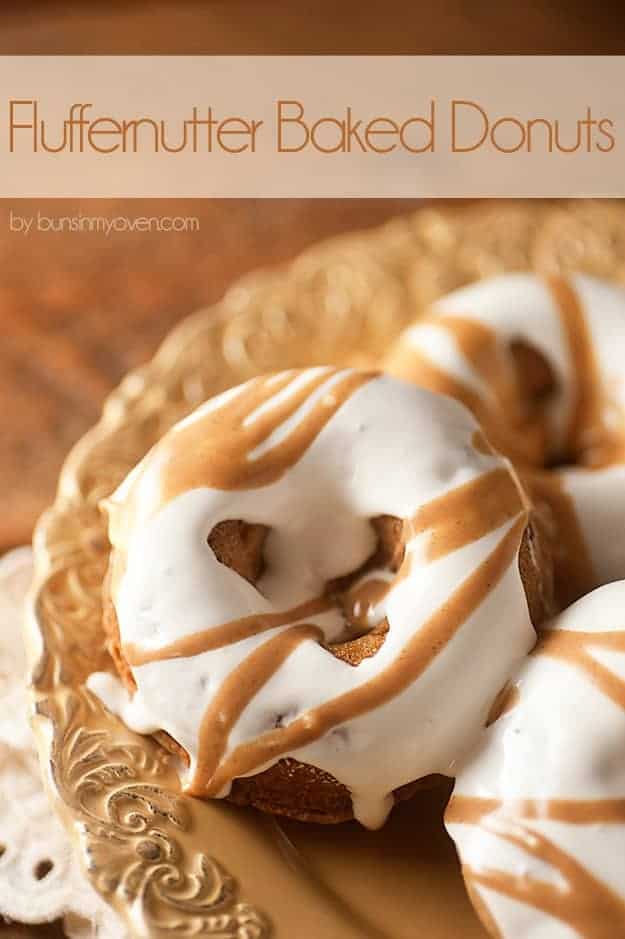 Can we talk about something personal for a moment? Something not donut or food related? Just for a minute, I promise.
My mama. I love that lady. You know we just up and moved to Nebraska a few weeks ago and missing my family has by far been the hardest part of all of this. I would visit my parents weekly, if not more, before our move. I used to complain that they lived a full 20 minutes away from me and now we're closer to 8 hours away. It kinda sucks.
But, that's not what I wanted to talk about. I want to talk about her art. Within the last few years she got really interested in mixed media art and has made some really awesome stuff. I love looking at her new things, because they are always full of fun colors and different shapes and layers upon layers of prettiness. I don't know how she puts things together and makes them work, but she does. Kind of like when I was a kid and we would color together…she could always mix markers and crayons on the same page and it would look like it fit. If I tried doing that it would look like a total mess.
Anyway, her art. She just shared the news with me that she's doing an art show this summer and I'm so stinkin' proud of her! I can't wait for all the excitement she's going to experience and to see where everything goes for her.
If you'd like to check out her work, you can see her blog, In Art Therapy, by clicking here. I think you'll love it and it would make her so happy if y'all stopped  by and said hello. She also has an Etsy shop, if you find that you like what you see. You can check that out right here.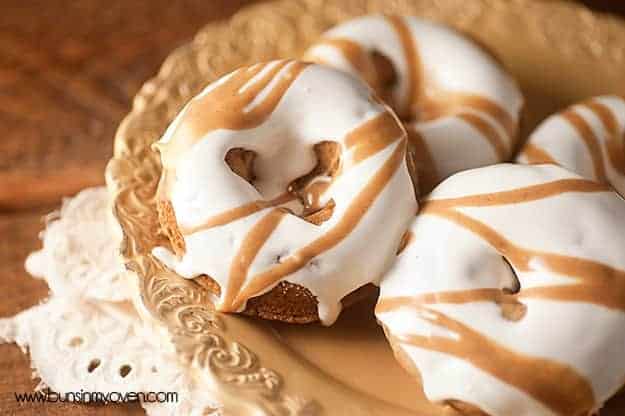 Alright, now that I've used up all of my mushy gushy love feelings for the day, let's talk about these donuts!
You guys. These donuts!
For those of you who don't know, a fluffernutter is a sandwich made of peanut butter and marshmallow fluff. So, basically a kid's dream meal. I went ahead and turned that beloved sandwich into something even more fun by making peanut butter donuts and topping them with a marshmallow glaze and an extra drizzle of warm and melty peanut butter.
Before you go and shout at me for sugaring your kids up for breakfast, please keep in mind that most of my baked donuts do work better as a dessert. Donuts for dessert are totally a thing and if you're too boring reasonable to serve these for breakfast, go ahead and feed them to someone you love for dessert.
If you don't have a donut pan, I highly recommend this one
. It's less than $10 and you will use it so much more than you think you will. I resisted buying one for so long, but I use it allllllll the time. If you really want to save your $10, bake these in a muffin tin (just watch the bake time as it will likely need adjusted).
One big note about these donuts…that marshmallow glaze is a sticky, gooey, delightful mess. I made my kids eat their donuts with a fork, which they found to be very eye-roll inducing. The glaze never really hardens, so keep in mind that these are a treat best served with plenty of wet napkins and, if you can manage it, a bib.
Now, go get your donut on! You're gonna love these!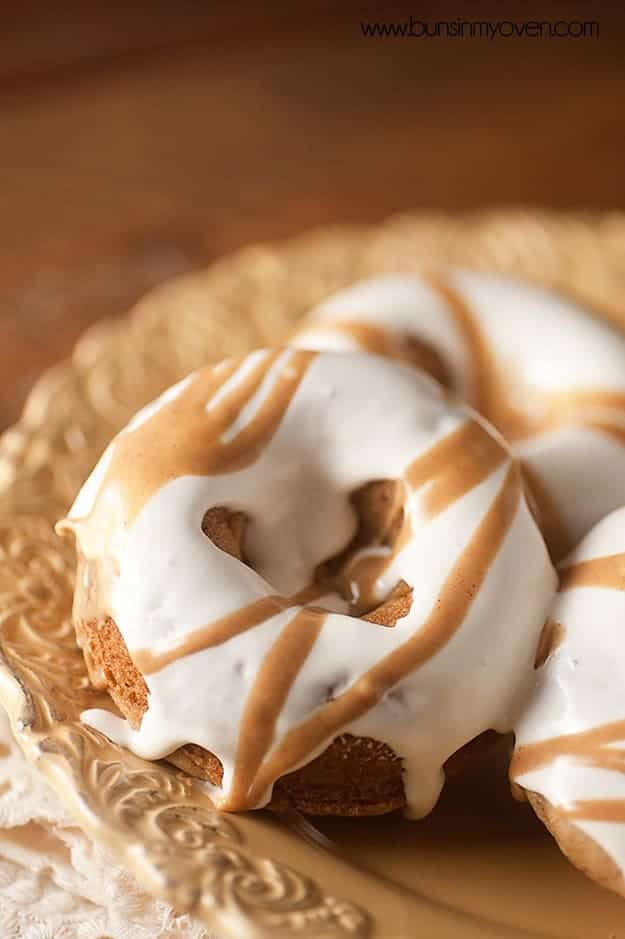 Fluffernutter Baked Donuts
Ingredients:
For the donuts:
1/3 cup peanut butter
2 tablespoons greek yogurt
1/2 cup packed brown sugar
1 egg
1/3 cup milk
1 teaspoon vanilla
1 cup flour
1 teaspoon baking powder
1/4 teaspoon salt
For the frosting:
1 tablespoon butter, room temperature
1/4 cup marshmallow creme
1/2 cup powdered sugar
1 teaspoon milk
1/4 teaspoon salt
extra peanut butter, melted, for drizzling
Directions:
Preheat the oven to 350 degrees. Spray a 6 cavity donut pan with non-stick spray.
In the bowl of a stand mixer fitted with the paddle, beat together the peanut butter, greek yogurt, and brown sugar until well combined. Beat in the egg, milk, and vanilla.
In a small bowl, combine the flour, baking powder, and salt. Slowly incorporate into the wet mixture, mixing until just combined.
Spoon the batter into the donut pan and bake for 8 minutes or until the donuts spring back when lightly pressed.
Let donuts cool completely before frosting.
To make the frosting, beat together the butter, marshmallow creme, powdered sugar, milk, and salt until well combined. Carefully spread onto the tops of the cooled muffins.
Melt extra peanut butter in a microwave safe bowl on low heat for about 30 seconds or until melted. Drizzle the peanut butter over the frosted donuts. Serve immediately.
Loving my baked donuts? Check out more recipes below!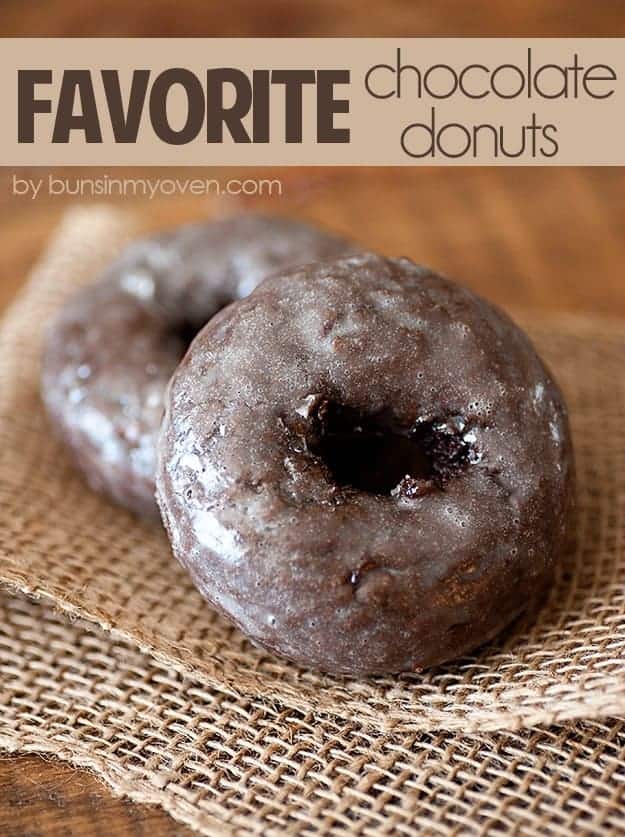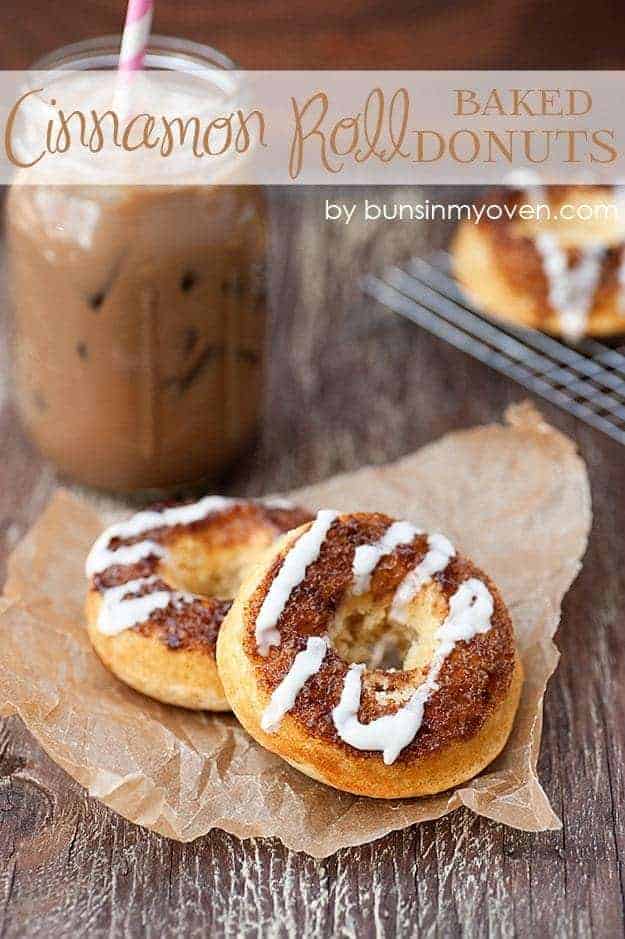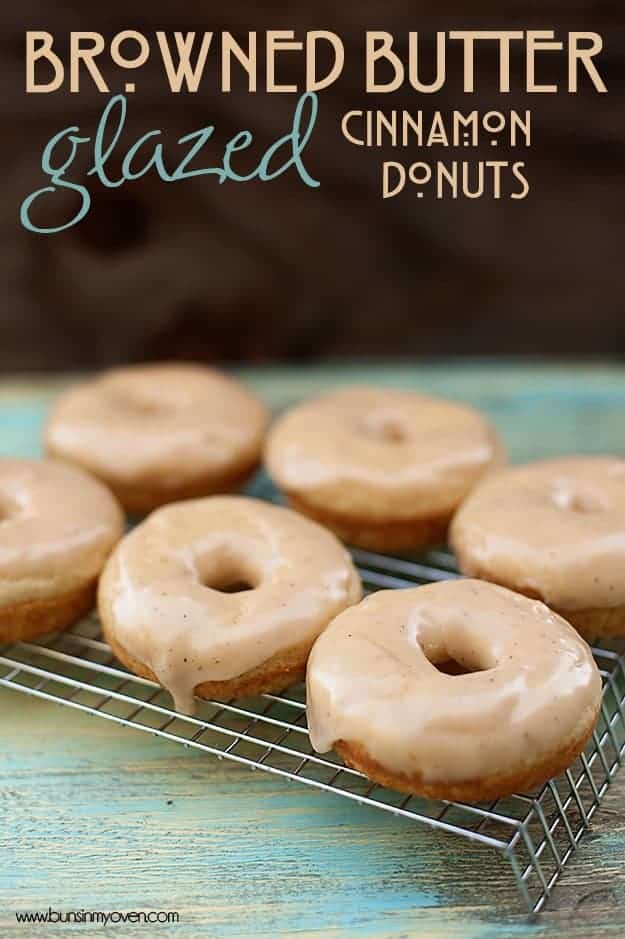 Browned Butter Glazed Donuts (aka, my favorite non-chocolate donuts!)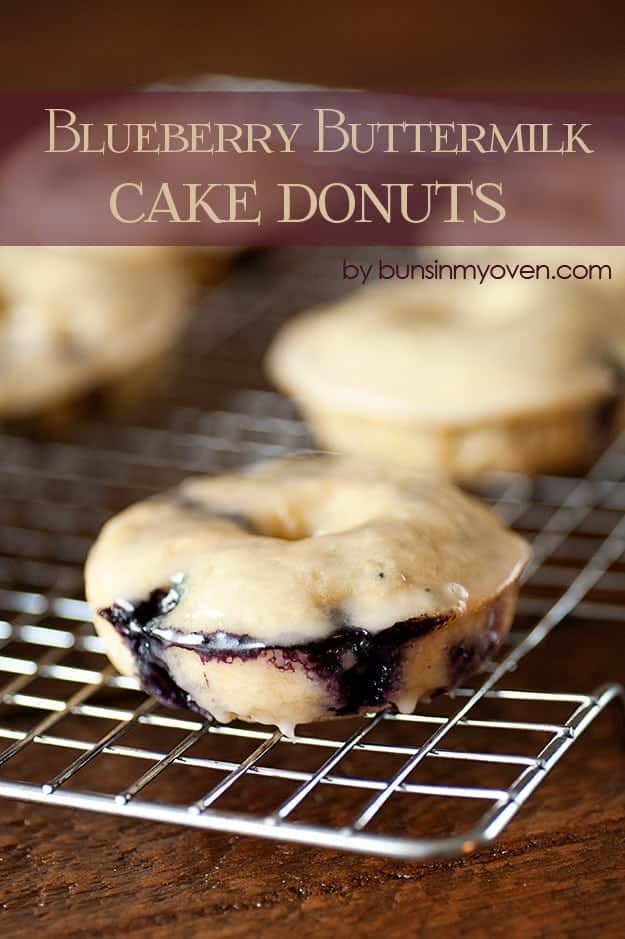 Blueberry Buttermilk Cake Donuts!
This post contains affiliate links.
Share this: