October 21, 2015
Chocolate Peanut Butter Pretzel Sticks
Alright, guys. I couldn't help myself. I had to squeeze in one last Christmas treat for you to make!
And before you take one look at the picture and click away, let me assure you that these are not your average pretzel sticks! I've tried dipping pretzel sticks in melted peanut butter and then melted chocolate, but I never got the right ratio of peanut butter. I like my pretzel sticks to be loaded with peanut butter! That's why I just use a knife and spread peanut butter on as thick as I can.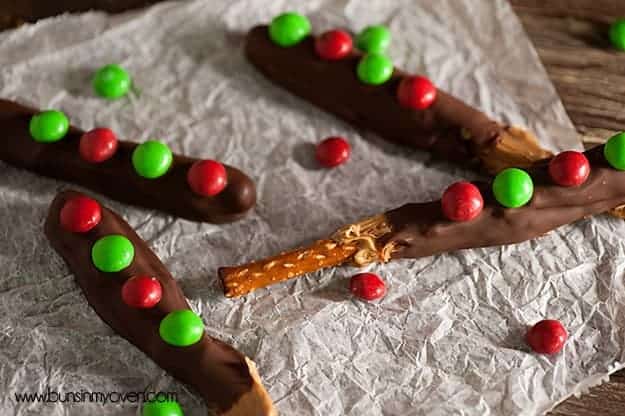 Spreading the peanut butter with a knife makes these super fast and easy to make. The kids loved helping me make these. I let them do most of the work while I sat back and hoovered these in. Such an easy treat!
So, spill it…are y'all done making your Christmas candies and cookies or are you still doing some last minute baking? I thought I was done, but then we got iced in and I started baking again. It's getting kind of ridiculous in here. My dishwasher is about to give up the fight, my husband is getting concerned about me, and my kids are in heaven. It's all chocolate, all the time.
One more recipe for you this week and then I'll probably take some time off to spend with the family. I hope you all do the same and enjoy the holidays!
Chocolate Peanut Butter Pretzel Sticks
Ingredients:
10 pretzel sticks
1 cup peanut butter
3 cups milk chocolate chips
1 tablespoon shortening
m&m candies
Directions:
Spread a thick layer of peanut butter on each pretzel stick and place on a parchment lined cookie sheet. Place in the freezer for 30 minutes.
Place the chocolate chips and shortening in a microwave safe bowl and cook on low for 30 seconds. Stir and return to the microwave in 15 second intervals, stirring each time, until melted. Pour melted chocolate into a tall drinking glass. Dip each pretzel stick in the melted chocolate and place on the parchment lined cookie sheet. Immediately press m&m candies onto each pretzel stick. Let sit at room temperature for 4 hours or until chocolate has hardened.
Share this: