October 4, 2013
Green Olive & Pecan Spread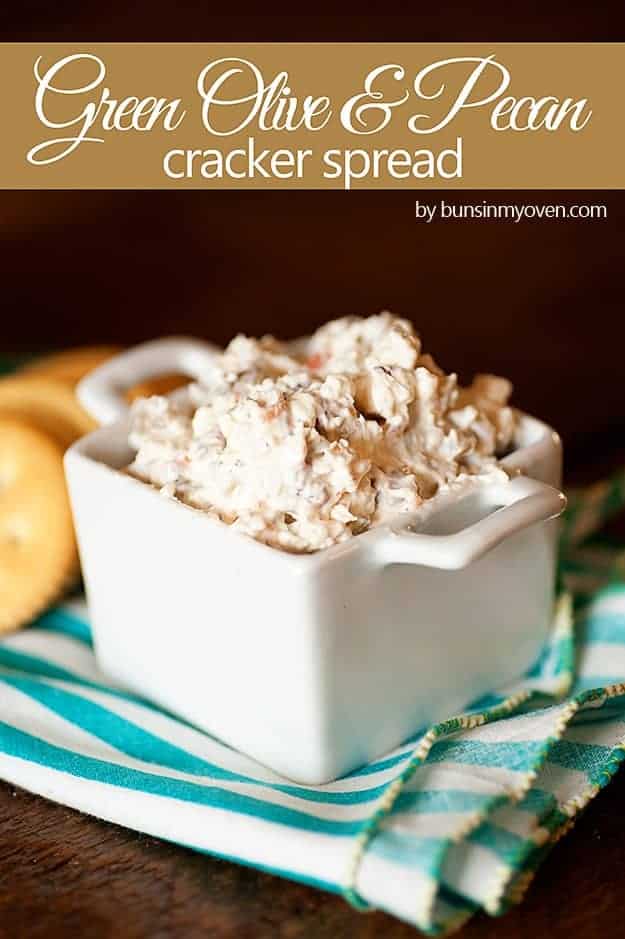 My daughter has been going through this weird phase where she hides things. All the things.
My phone. The television remote. Her school books. Her brother's Kindle. Her Dad's wallet. My purse.
She thinks she's hilarious.
Guys. I am hear to tell you that she is wrong. She is so very wrong. There is nothing funny about getting perfectly comfortable on the couch, your pillow arranged just perfectly under your head, your dog curled up right on top of your toes to keep them warm, knowing that there is a brand new Grey's Anatomy just waiting for you on your DVR, only to reach out for the controller that you just put on the coffee table. And then you discover that your daughter somehow managed to sneak off with the controller while she was distracting you with pleas for a snack.
My life is so hard.
Anyway, let's talk about things that will make us happy instead. Like this cracker spread! It's delightful, you guys.
Green olives have always been a favorite and when they're mixed with cream cheese and pecans things just get even better. The texture of the pecans is perfect in this dip and the salty olives are amazing. Please do keep in mind that green olives are salty and if you are not a fan of salt you will probably not be a fan of this dip. Do not send me hate mail, mkay?
Now, grab yourself a bowl of dip and a handful of crackers and get eating. Quickly, before my daughter comes along and hides your food.
Green Olive & Pecan Spread
Ingredients:
8 ounces cream cheese, room temperature
1/2 cup mayonnaise
1 cup green olives, finely diced
1 cup pecans, finely diced
Directions:
Mix all ingredients together until well combined. Cover and refrigerate for one hour before serving.
Serve with crackers.
Share this: