October 3, 2013
Sausage Hash Grilled Breakfast Sandwich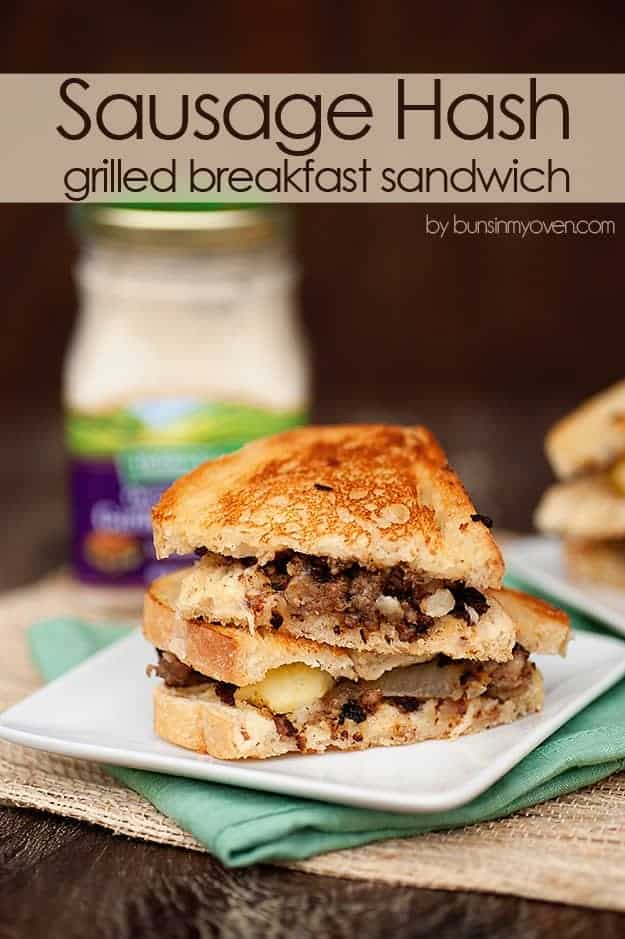 Y'all watch way too much food TV, right? I mean, I'm not alone, am I? I'm sorta addicted to it. I love the cooking competitions!
But you know, someone is always making "hash."
Personally, I had never made hash before. I didn't really even know what it was. Just a bunch of random ingredients tossed in a skillet and cooked? Yep. Guess so.
So, I thought I'd get my hash on this morning. But, you know…I'm a sandwich girl. I threw my hash in between a couple of slices of sourdough bread, smeared the outsides with butter, spread the inside with a little Hidden Valley Oven Roasted Garlic Parmesan sandwich spread, and stuffed it to the brim with a sausage, onion, and red pepper hash. I sprinkled on a bit of extra Parmesan, but only because I am a firm believer that cheese makes everything better. If you don't believe that, then you are probably not my friend anymore. Sorry 'bout that.
Hidden Valley has plenty of sandwich spreads to choose from and I think they'd all work great in this sandwich! The spreads are perfect for giving your sandwich an extra little burst of flavor with one-third the calories of mayo and only 2 grams of fat per serving! The spreads are made with white beans and cream cheese. They work great as a dip, too!
Sausage Hash Grilled Breakfast Sandwich
Ingredients:
2 potatoes, peeled and diced
3 ounces breakfast sausage
1/4 onion, diced
1/4 red bell pepper, diced
1/4 cup shredded Parmesan cheese
4 slices sourdough bread
2 tablespoons butter
1 tablespoon Hidden Valley Oven Roasted Garlic Parmesan sandwich spread
Directions:
Add the diced potatoes to a pot of water and bring to a boil. Cook until potatoes are just barely fork tender. Remove from the heat and drain.
While the potatoes are cooking, add the sausage, onion, and bell pepper to a large skillet over medium heat. Cook just enough to break up the sausage into small pieces. Add the potatoes to the skillet and spread into a single layer. Let cook until the bottom is golden, stir, and repeat.
Heat a small skillet over medium heat. Spread butter on one side of each slice of bread. Place one slice of bread, butter side down, in the skillet. Sprinkle on a little Parmesan, top with the hash, and sprinkle on more Parmesan. Spread half of the sandwich spread on the un-buttered side of a second piece of bread and top the sandwich, butter side up. Cook until the cheese has melted and the bread is golden and crispy. Flip to the other side and repeat.
Repeat for the second sandwich.
Hidden Valley's line of new Sandwich Spreads & Dips will take your boring sandwich routine to another level. With new flavors like Spicy Chipotle Pepper and Oven Roasted Garlic Parmesan, your mouth will be thanking you and you'll be on your way to delivering sandwich-envy.
This is a sponsored conversation written by me on behalf of Hidden Valley Ranch. The opinions and text are all mine.
Share this: