August 22, 2013
Cheddar Snack Mix (and a giveaway!)
Let's all take a little test, shall we?
Oh, come on. This test will be fun. No groaning! You sound like my kids.
First question: When you're eating a jar of mixed nuts, do you have a favorite nut that you dig around for?
Second question: While eating a blizzard do you get irrationally angry if you take a bite of pure ice cream since, really, everyone knows that a blizzard is only good if it's chock full of goodies?
Third question: How do you make your hair so shiny? You're pretty. I like you.
Okay! If your answers to question one and two are "yes and yes", you've passed the test!
If your answer to question three is "you're weird" or "I'm not telling" or "quit being a freak" then you fail.
So, let's just assume that you've passed the test! I, my friends, have a treat for you! Snack mix! But not just any snack mix!
Like all mixed foods, there is a star ingredient. It's that one ingredient that everyone wishes they were getting in every single bite, the little pieces that people dig around for when no one else is looking, the star of the show, if you will. In this case, our snack mix consists of spicy ranch crackers, popcorn, and pretzels. Each of these ingredients is good on their own and they are even better together.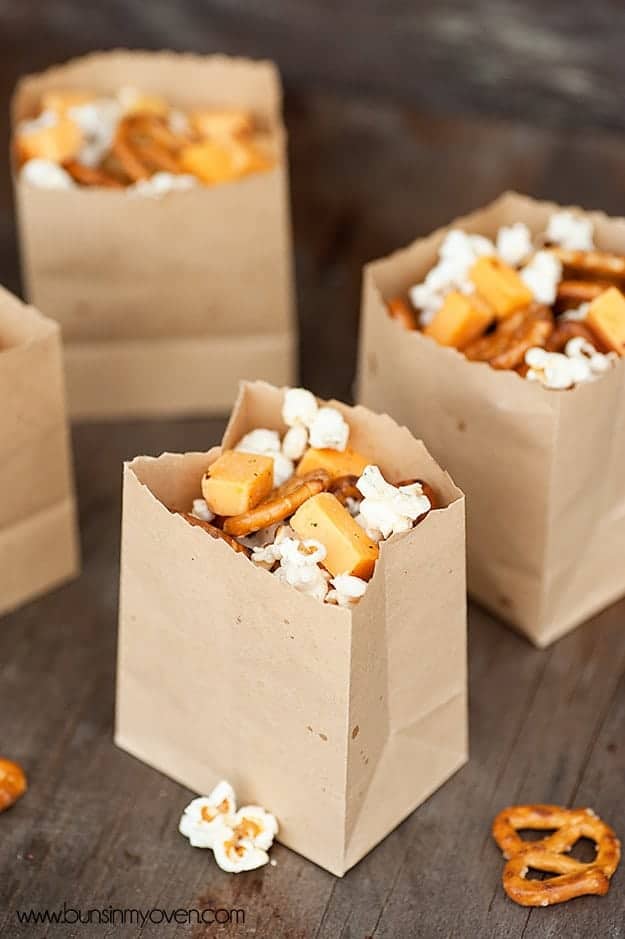 But, then! Lo and behold! I've gone and added cheese to the mix.
Big, glorious chunks of Cracker Barrel's Extra Sharp Cheddar Cheese.
Someone hold me back, Imma attack this snack mix with my face.
You see, the cheese does something magical to this every day snack mix, making it all kinds of extraordinary. The spicy crackers are delicious on their own, but something about the cool, creaminess of the cheese just completely puts them over the top. You know when you're eating something spicy and you're just dying for something cool to come along and put out the fire? That's exactly what the cheddar does in this recipe! And the crunch from the pretzels is perfectly complimented by the smoothness of the rich, authentic cheddar.
I love all of the different textures in this mix! It's fun in your mouth!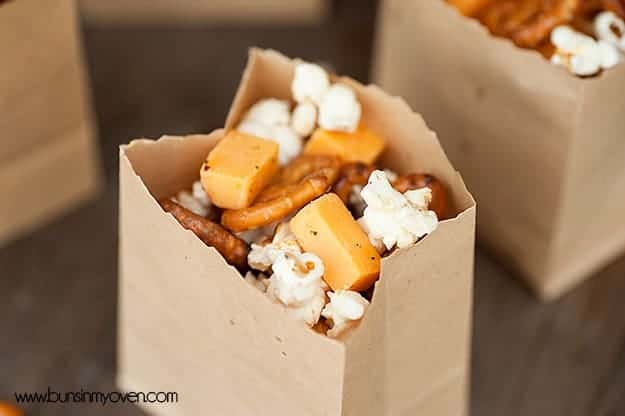 I'm all about using the best ingredients possible and Cracker Barrel Cheese fits the bill perfectly. It's an authentic cheddar cheese that's made from real ingredients, using the heirloom cultures they first used back in 1954. Not only does Cracker Barrel make award winning cheese, it's also accessible and affordable. Chop some up and put it in…well, anything. Or just eat it by the slice (because, really). Slice some cheese and stuff it in your face is my motto.
To learn more about the delicious Cracker Barrel Cheeses you can visit their website! Be sure to fill out this fun and fabulous cheese survey while you're at it!
Cheddar Snack Mix
Ingredients:
2 cups Oyster crackers
1/4 cup vegetable oil
1 tablespoon dry Ranch seasoning powder
1 teaspoon red pepper flakes (more if you like things extra spicy!)
2 cups small pretzels
2 cups popped popcorn
8 ounces Cracker Barrel Extra Sharp Cheddar
Directions:
Preheat oven to 250 degrees.
In a medium bowl, add the crackers, vegetable oil, Ranch powder, and red pepper flakes. Stir to coat all the crackers.
Place a cooling rack (like you'd use to cool cookies) on a cookie sheet. Pour the oyster crackers over the cooling rack and spread them to form a single layer.
Bake for 10 minutes. Stir and bake for another 10 minutes. Cool before proceeding.
In a large bowl, add the cooled crackers, pretzels, and popcorn.
Dice the cheese into small pieces and add to the bowl. Toss to combine.
And now on to the sweepstakes – BlogHer is giving my readers a chance to win a $100 Visa gift card! To enter the sweepstakes, all you have to do is tell me: What's your favorite cheesy snack to treat yourself to?

Sweepstakes Rules:
No duplicate comments.
You may receive (2) total entries by selecting from the following entry methods:
Leave a comment in response to the sweepstakes prompt on this post
Tweet (public message) about this promotion; including exactly the following unique term in your tweet message: "#SweepstakesEntry"; and leave the URL to that tweet in a comment on this post
Blog about this promotion, including a disclosure that you are receiving a sweepstakes entry in exchange for writing the blog post, and leave the URL to that post in a comment on this post
For those with no Twitter or blog, read the official rules to learn about an alternate form of entry.
This giveaway is open to US Residents age 18 or older. Winner  will be selected via random draw, and will be notified by e-mail. You have 72 hours to get back to me, otherwise a new winner will be selected.
The Official Rules are available here.
This sweepstakes runs from 8/22/13 – 10/31/13.

Share this: