July 29, 2013
Peanut Butter Fudge Ripple Ice Cream
Happy Monday, y'all. And by "happy" I mean watch out, I might stab you in the face. Seriously, is it really Monday again? Urgh.
To make the day a little more bearable, I thought we could celebrate with ice cream. Lots and lots of ice cream! I teamed up with some fabulous ladies to bring you a boatload of frozen treats to beat the heat!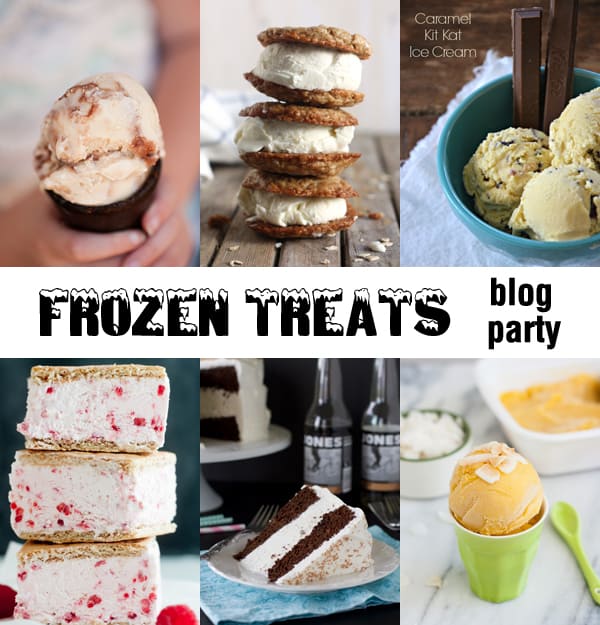 I hope y'all have your fat pants ready!
Anyway, I'm sharing my favorite flavor combo today. Chocolate and peanut butter! It goes so good in pretty much everything, but most especially ice cream! I loaded this ice cream up with peanut butter. Not only do you get a peanut butter flavored base, but you'll find smooshy, gooey pieces of pure peanut butter smeared throughout the ice cream, alongside some deep dark fudge ripple!
It's a super simple recipe to make, too! No eggs required.
I served this in a chocolate cookie cone from The Cone Guys. Think smooshed up Oreo cookies baked in a cone shape. Yeah. They're delicious. (I was not paid to share these cones with you, though they did send me a sampler pack of cones to test out! We love them!)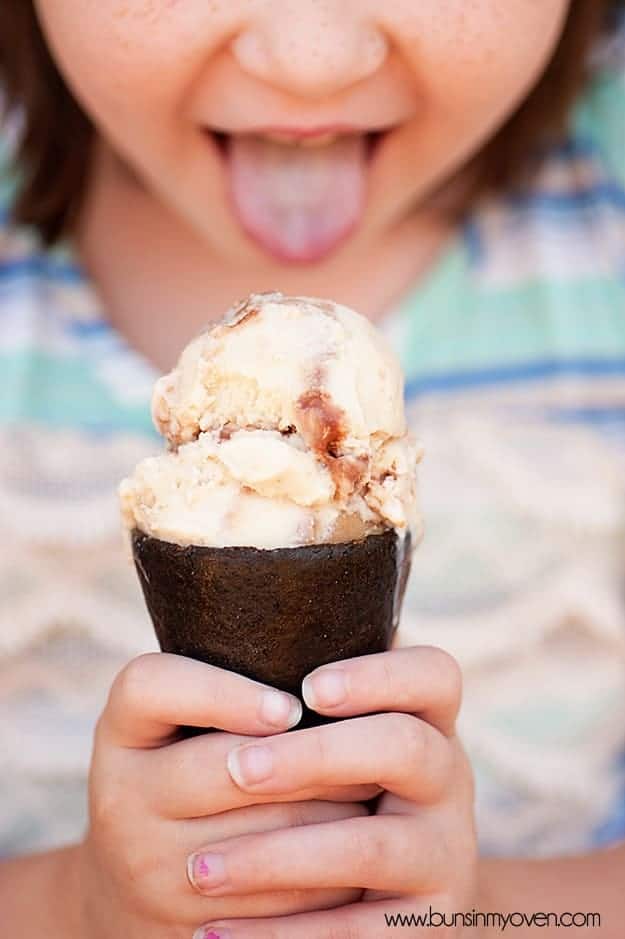 If you're not a cone type of person, try it in a big ol' bowl topped with hot fudge and whipped cream. I'm pretty sure that will cure your case of the Mondays.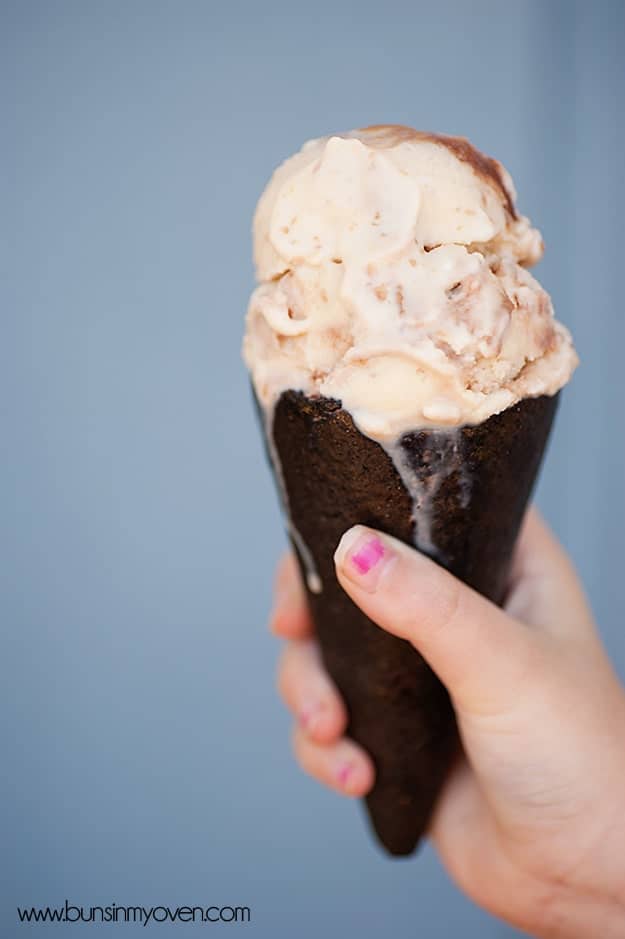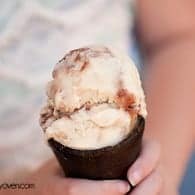 Peanut Butter Fudge Ripple Ice Cream
Ingredients:
For the ice cream:
1 (14 ounce) can sweetened condensed milk
1 (12 ounce) can evaporated milk
1 1/4 cups milk (I used 2%, but whole would be even better)
1/2 cup creamy peanut butter (JIF is my favorite)
2 tablespoons white sugar
2 teaspoons vanilla extract
For the fudge ripple:
1/4 cup sugar
2 tablespoons + 2 teaspoons light corn syrup
1/4 cup water
3 tablespoons unsweetened Dutch-process cocoa powder
1/2 teaspoon vanilla extract
Directions:
To make the fudge ripple:
Whisk together the sugar, corn syrup, water, and cocoa powder in a small sauce pan over medium heat. Continue stirring until the mixture begins to bubble at the edges. Bring to a low boil, stirring constantly, for one minute. Remove from the heat and stir in the vanilla extract. Cool completely in the refrigerator before using.
To make the peanut butter ice cream:
In a large bowl, combine the condensed milk, evaporated milk, milk, peanut butter, sugar, and vanilla and stir until the sugar dissolves. There will be chunks of peanut butter throughout the mixture, but try to break them up into small-ish pieces. Once mixture is combined, add to your ice cream maker and continue according to manufacturer's instructions.
Spread a bit of fudge ripple on the bottom of a 1 quart freezable dish (I used 2 1-pint ice cream containers) and spoon some ice cream on top. Drizzle in the fudge ripple between layers of ice cream until you completely fill the container with ice cream. You might have a bit of leftover fudge ripple, depending on how much you add to your ice cream. It will keep covered in the fridge for two weeks.
Freeze the ice cream for at least 4 hours before serving.
I hope you'll click through and check out all of the other amazing goodies that were shared today! I know I can't wait to try each and every one of these goodies.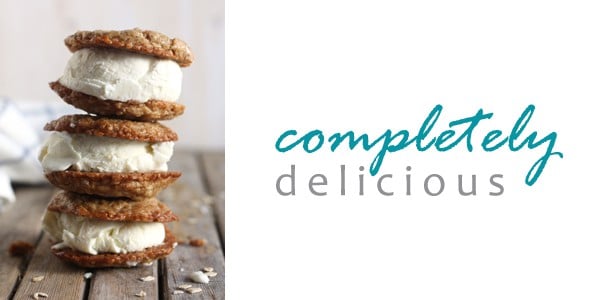 Oatmeal Cream Pie Ice Cream Sandwiches by Completely Delicious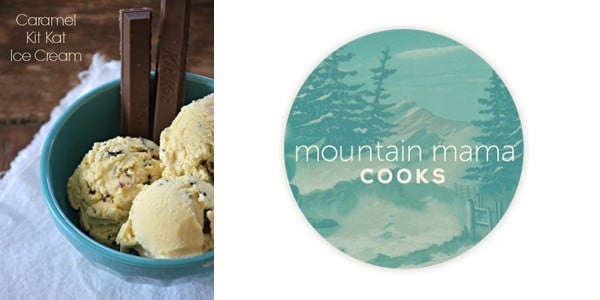 Caramel Kit Kat Ice Cream by Mountain Mama Cooks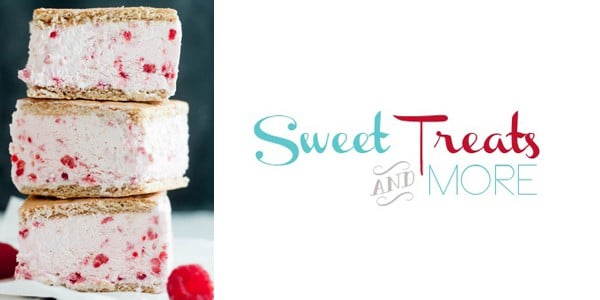 Raspberry Greek Yogurt Ice Cream Sandwiches by Sweet Treats and More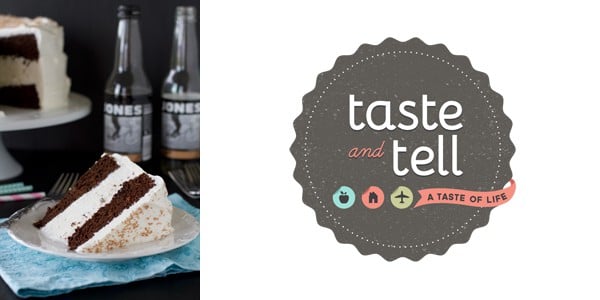 Root Beer Float Ice Cream Cake by Taste and Tell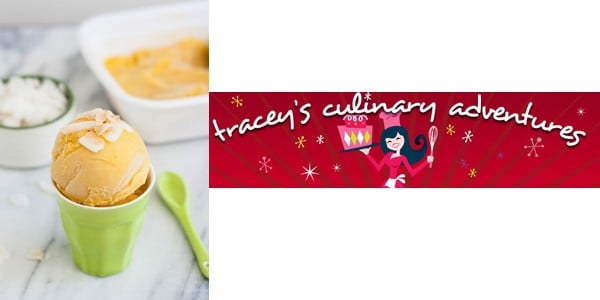 Mango Coconut Sherbet from Tracey's Culinary Adventures
Share this: