June 14, 2013
Restaurant Style Salsa
Y'all know the kind of salsa I'm talking about, right? The smooth kind.
I like chunky salsa just as much as the next girl and pico de gallo and I had a baby together way back when, but don't tell my husband.
This restaurant style salsa is one of my favorite recipes, though. I love the fact that I almost always have the ingredients on hand, something that's easy to do since a lot of this comes from cans.
I love how quick it comes together, with just a few whirs in the blender to get the perfect consistency.
This is pretty similar to Chili's salsa, except I added fresh cilantro, because I'm sorry Chili's, but how could you forget to add cilantro? Not cool.
Feel free to adjust the spiciness by adding more or less jalapenos, but keep in mind that this gets spicier after it's sat for awhile. I like to leave it pretty mild when I'm making it and then it's just about perfect for me after a couple of hours in the fridge. And for me, perfect is probably kinda wimpy. I'll call it a medium spice, but after eating my way around Austin, Texas last week, I should just admit that no, actually, even mild food is too spicy for me. You Texas people are kinda crazy with the peppers.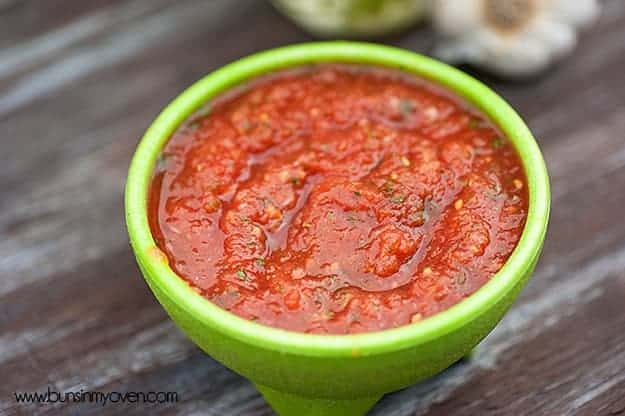 Restaurant Style Salsa
Ingredients:
1 can (15 ounces) whole peeled tomatoes, drained
2 teaspoons diced jalapeno (from a jar, increase/decrease to taste!)
1/2 onion
1 clove garlic
1/2 teaspoon salt
1 teaspoon cumin
2 teaspoons lime juice
handful of cilantr0 (unless you're a hater)
Directions:
Dump everything into a blender of food processor and process until smooth. Taste and adjust seasonings as needed. The salsa will get spicier as the peppers sit, so keeping it a bit more mild than you'd normally like is a good idea!
Refrigerate for at least one hour before serving.
Stop by and check out the other fun things going on lately! I have a giveaway for Mall of America, a $500 Amazon gift card giveaway, and an LG Easy Clean Oven giveaway! I'm also talking about cheese and morning routines! It's been a busy month!
Share this: