January 11, 2017
Chocolate Caramel Scones (Lower Calorie!)
I don't know who you people are, but I've had so many requests for low calorie baked goods lately.
I mean, what? Have you met me? I love calories. They are delicious.
But, I decided to experiment a bit and see what I could do. Just once. For fun. Not because I suddenly hate calories. I'll be back to shoving every stray calorie in my face as soon as I finish sharing this recipe. Got it?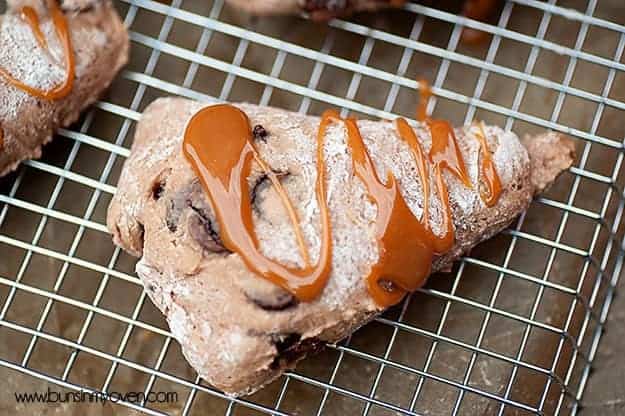 Anyway. I wanted to make scones. I normally use boatloads of heavy cream in my scones and then I feel all warm and fuzzy for the rest of the day. I thought it might be fun to use coffee creamer instead of heavy cream to replace some fat and add some flavor.
Have you seen International Delight's flavored creamers? (This isn't sponsored content. I'm just excited about all of the varieties and sharing my love here.) So many to choose from, but I was immediately drawn to the Hersey's Chocolate Caramel.
I did a little experimenting and came up with this delicious recipe using creamer in place of actual cream. Total yum.
The texture between the creamer scones and the heavy cream scones is a bit different. The cream scones are a bit lighter and fluffier while these scones are a bit denser and chewier, a bit more muffin like than biscuit. These scones are still absolutely delicious and I will totally make them again and again.
Here's how I saved calories: I swapped the heavy cream for coffee creamer, saving 120 calories per batch. I then reduced the amount of sugar, because the creamer is already a bit sweet, saving an additional 90 calories. So, swapping in the coffee creamer for heavy cream ended up saving me a total of  26 calories per scone.
I clearly need more practice at this. Ha! But, hey, if I eat 134 of these scones versus 134 of the heavy cream scones, I've saved myself from gaining one pound. Winning?
My head hurts from all the math. I'm going to go bathe in calories now. Goodbye forever.
Chocolate Caramel Scones
Ingredients:
1 3/4 cups flour, plus more for kneading 2 tablespoons sugar 2 teaspoons baking powder 1/8 teaspoon salt 1 cup chocolate chips 1 cup International Delight Chocolate Caramel Creamer caramel ice cream topping, for drizzling
Directions:
Preheat oven to 375 degrees. Stir together the flour, sugar, baking powder, salt, and chocolate chips in a large bowl. Pour in the creamer and stir to combine with a wooden spoon. The dough will be sticky. Turn out onto a well flouared work surface and sprinkle more flour on top as needed. Knead the dough for a few minutes, adding small amounts of flour as needed to make the dough easy to work with. Once dough is well combined, pat into an 8 inch round circle. Use a pizza cutter or knife to cut into 8 wedges. Bake on a parchment lined cookie sheet for 15 minutes. Cool for a few minutes before drizzling with the caramel sauce.
Share this: