January 11, 2017
Orange Dream Dessert Waffles
This post is sponsored by Pillsbury. As always, all opinions are my own.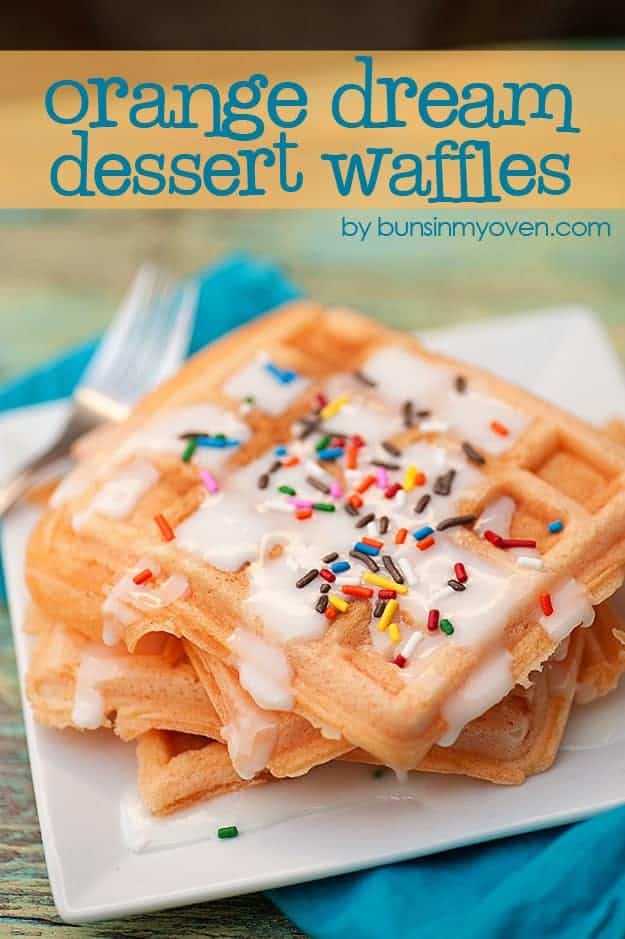 Let's talk about dessert.
Some of you people don't eat enough of it. I mean, I've heard from a few of you that only eat dessert once a week.
Guys, I don't want to be the bearer of bad news, but I'm not even sure that's legal. Dessert is sorta important, is what I'm saying.
I mean, I can think of a reason to celebrate just about any occasion with dessert.

Last day of school? You need cookies.
First day of a new job? Better make some brownies.
The mailman brought you mail today? Ice cream.
The sun was shining? Bake a cake.
There was plenty of oxygen on Earth for everyone this evening? I think that calls for a candy bar.
It's the first day of Summer? Dessert Waffles.
Oh, yes. I just said dessert waffles. They're a thing.
You see, when it's ridiculously hot out no one wants to turn on the oven. I mean, I will generally be the crazy one that heats the whole house up for a cookie, but that's mostly just because I really love cookies. It makes much more sense to keep the oven off, the house cool, and the waffle maker at the ready.
I used Pillsbury's Orangesicle cake mix to create these simple waffles that are perfect for a quick and easy dessert.m I thought they'd be a fun way to celebrate the oncoming of summer. The new summer flavors are not only tasty (hello, Orangesicle and Key Lime Pie!), but the colors are so fun and vibrant!
For more baking inspiration, visit Pillsbury's website, facebook page, or find them on Pinterest!
Want to win a Celebration Starter Kit, full of seasonal cake mixes and frostings and a $50 Visa gift card? Check out the rafflecopter widget below the recipe to enter!
Orange Dream Dessert Waffles
Ingredients:
1 box Pillsbury Orangesicle cake mix 1 cup water 1/3 cup oil 3 eggs 1 cup powdered sugar 2 tablespoons water sprinkles, for topping
Directions:
In a large bowl, beat together the cake mix, water, oil, and eggs as directed on the package. Heat your waffle iron. Fill the waffle iron with the cake batter. Amounts will vary depending on your individual waffle iron. Cook about 3 minutes or until cooked through. In a small bowl, whisk together the powdered sugar and water. Drizzle over the warm waffles and top with sprinkles.
Share this: