April 29, 2013
Snack Mix Cookies (And an AWESOME giveaway!)
This is sponsored content. All opinions are my own. Huge thanks to Davidson's Safest Choice for sponsoring this giveaway and recipe!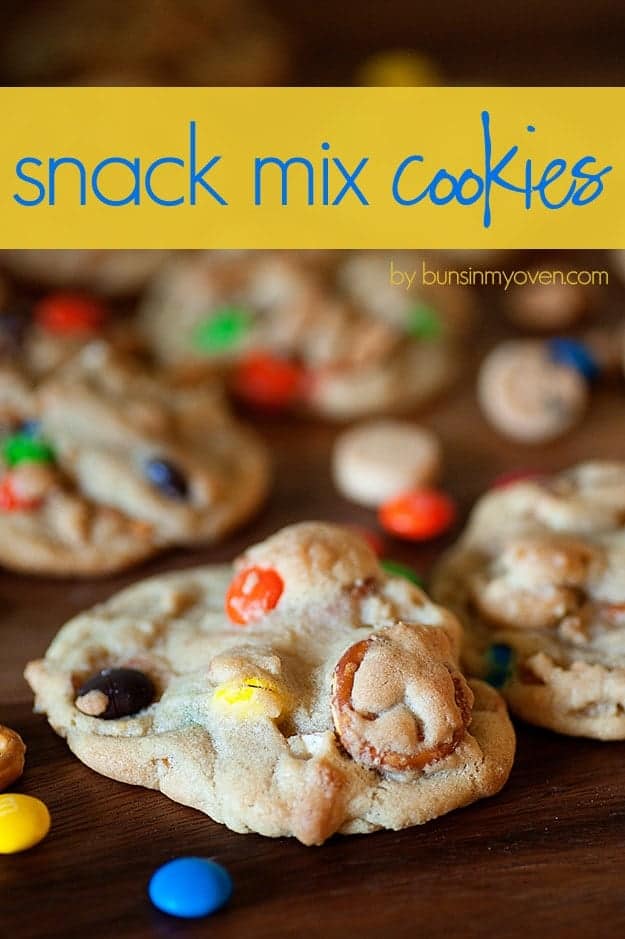 I've been having so much fun working with Safest Choice to bring you delicious, fun, and most of all, safe recipes using their pasteurized eggs. We started off with this fabulous eggnog french toast, moved on to some spaghetti alla carbonara, and rounded things out with some creative and unique deviled eggs.
Delicious, right?
Let's bring it around to dessert, shall we?
Cookies. Snack Mix Cookies, to be precise. Have y'all seen the huge bags of m&m's snack mix? I'm in love. The milk chocolate version is full of m&m candies, mini pretzels, tiny little chocolate chip cookies, and peanuts. The peanut version is full of peanut m&m candies, shortbread cookies, pretzels, and almonds. Both are fabulous, but the milk chocolate bag is my true soul mate.
So, rather than spend the day sneaking handfuls while my kids aren't looking, I just went ahead and dumped three cups of snack mix into some cookie dough and called it a day.
Snack mix cookies for the win.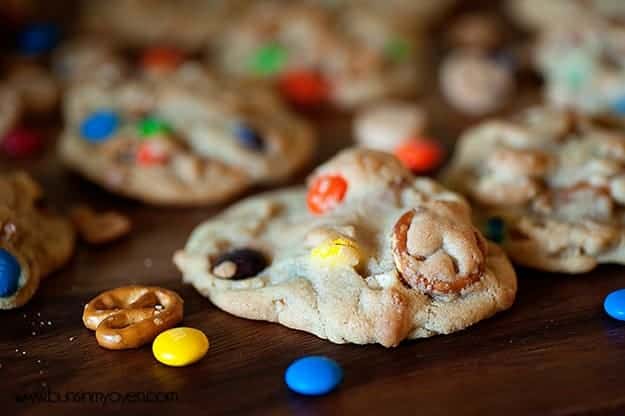 Cookies are probably my favorite thing to make in my KitchenAid, but seriously, guys. I use that thing almost daily for so many things. Cakes, brownies, shredded chicken, mixing meatloaf, kneading bread, mashing potatoes, and, well, pretty much anything that might make my poor little arm muscles tremble with exertion.
You want a KitchenAid, right? Right.
What if I throw in 24 dozen eggs? I mean, no. I won't actually throw eggs at you. That'd be a problem. How about I mail you 24 coupons, each good for a dozen Safest Choice Eggs? Imagine how many cookies you could make with 288 pasteurized eggs. Bonus: because the eggs are pasteurized, you get to eat as much of the dough as you want. Winning!
So, here's how we'll do this. Below the recipe for these delicious cookies is a rafflecopter widget. You can enter the giveaway for a gorgeous, Springy looking, Raspberry Ice KitchenAid mixer and 24 dozen eggs by leaving a comment on this blog post. For additional entries, just follow the steps in the rafflecopter widget. Easy peasy.
Snack Mix Cookies
Ingredients:
1 cup butter, softened
1 1/2 cups brown sugar
1/2 cup white sugar
2 Safest Choice Pasteurized Eggs
2 teaspoons vanilla
3 cups flour
1 teaspoon baking soda
1/2 teaspoon kosher salt
3 cups m&m's snack mix
Directions:
Preheat oven to 350 degrees. Line a cookie sheet with parchment.
In the bowl of a stand mixer, cream together the butter and sugars until light and fluffy. Beat in the eggs, one at a time, until well combined. Beat in the vanilla.
In a medium bowl, combine the flour, baking soda, and salt. Slowly add the dry ingredients to the wet, beating well to combine.
With the mixer on low, pour in the m&m's snack mix and continue mixing until the mix is dispersed throughout the dough. Stop the mixer and scrape down the bowl as needed.
Use a cookie scoop to drop balls of cookie dough on the prepared sheet, 2 inches apart.
Bake for 10 minutes. Cool on a wire rack.
Share this: