January 19, 2015
Homemade Marshmallows
If you've ever wondered how to make marshmallows, I have an easy marshmallow recipe for you! It takes a little bit of patience, but making your own marshmallows isn't hard at all!

Hold on just a second there. I can see your clicky finger hovering over that red X while you roll your eyes at me for making something as ridiculous as homemade marshmallows when it would be easier, faster, and cheaper to just run to the grocery store and buy a bag.
Trust me, people. Have a little faith. I would not lead you astray.
Everyone should make these once in their life.
Homemade marshmallows are not something you're going to go putting in your Rice Krispies Treats. These are meant for pure unadulterated marshmallow enjoyment. Eat them plain, eat them dipped in melted chocolate, smoosh them between a couple of graham crackers if you must, but don't go wasting them on something where the flavor isn't going to shine.
These little marshmallows are light, fluffy and springy. They're full of sweet vanilla flavor and each bite is like a little burst of love right in your mouth. (I will not turn that into a naughty joke and neither will you. Unless you really want to, in which case I'll laugh like the 13 year old boy child that I am.)
I made these for my mama for her birthday this year. Every time we go to Whole Foods (which, sadly, is not very often since it's about a 3 hour drive) my mom comments on the square marshmallows they sell in the little plastic container. I knew I had to make these for her when I saw them over at Smitten Kitchen. If you don't have a mama in awe of homemade marshmallows with a birthday right around the corner, you might consider gifting someone these for Valentine's Day. Nothing says love like a handcrafted marshmallow.
These were surprisingly easy, too. Just don't touch the marshmallow goo or you'll end up a sticky mess. Luckily everything dissolves easily with a bit of water.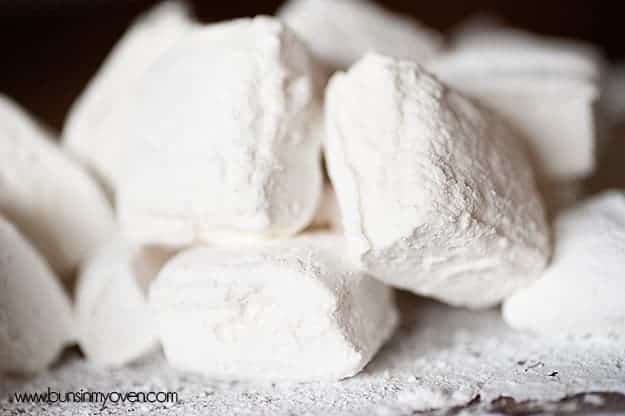 Homemade Marshmallows
Ingredients:
3 1/2 envelopes (2 tablespoons plus 2 1/2 teaspoons) unflavored gelatin
1 cup cold water, divided
2 cups granulated sugar
1/2 cup light corn syrup
1/4 teaspoon salt
2 large egg whites
1 tablespoon vanilla (I added 1/2 of a scraped vanilla bean as well)
powdered sugar, as needed, about 1 cup
Directions:
Liberally spray a 9x13 glass or metal pan with cooking spray. Dust the pan with powdered sugar.
Sprinkle the gelatin over a half cup of the cold water in the bowl of your stand mixer fitted with the wire whisk. Let soften.
In a 3 quart heavy bottomed sauce pan, cook the second half cup of cold water, sugar, corn syrup, and salt over low heat, stirring with a wooden spoon until the sugar has dissolved. Increase heat to medium and boil until mixture reaches 240 degrees, about 12 minutes.
Remove pan from the heat and pour the sugar mixture into the stand mixer with the gelatin. Stir to dissolve the gelatin.
Beat on high speed until white, thick, tripled in volume, about 6 minutes.
In a medium bowl, beat the egg whites until stiff peaks have formed.
Mix the egg whites and vanilla into the sugar mixture until just combined.
Pour the mixture into the prepared baking dish, using a rubber spatula to scrape it out as needed, but being careful not to touch the goo with your hands. You won't get it all out of the bowl and that's okay.
Sift 1/4 cup of powdered sugar over the top of the marshmallows and chill uncovered in the fridge for 3 hours or overnight.
Run a knife along the edges of the pan and turn the marshmallows out onto a cutting board. Cut marshmallows into 1-inch cubes with a sharp knife or pizza cutter.
Sift about 1/2 cup of powdered sugar back into the baking dish and toss the cut marshmallows in it to coat all sides and prevent them from sticking to each other.
Shake off the exceess powdered sugar and store in an airtight container for up to one week.
Share this: