November 19, 2012
Peanut Butter Brownie Cheesecake

The husband had a birthday this week.
He doesn't like frosting, so cake is usually out of the question when it comes to birthday treats. Oh, and no. I don't know what planet he is from. Thanks for asking.
I told him to choose a treat for his birthday dinner and he happily answered brownies from a box with nothing weird done to them.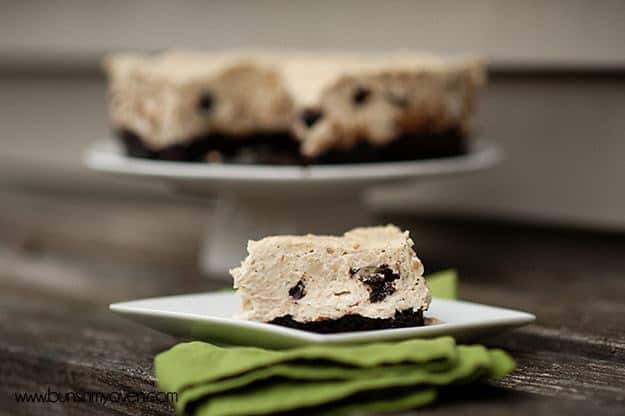 "You're a food bloggers dream, you know that?" I told him.
He was super proud of himself, not realizing that actually, he kind of sucks. I mean, would you guys really want me to make a box of brownies and share it here? The recipe would read "Buy a box of brownies. Follow the instructions. The end!"
So, I completely ignored him, as is my wifely right, and I made him his two favorite desserts combined. Cheesecake and brownies from a box.
The peanut butter cheesecake is no-bake, so this is a pretty simple dessert without a ton of hands on time. It does need to chill for four hours before serving, though, so keep that in mind!
Oh, and happy birthday, husband. I guess I'll keep you.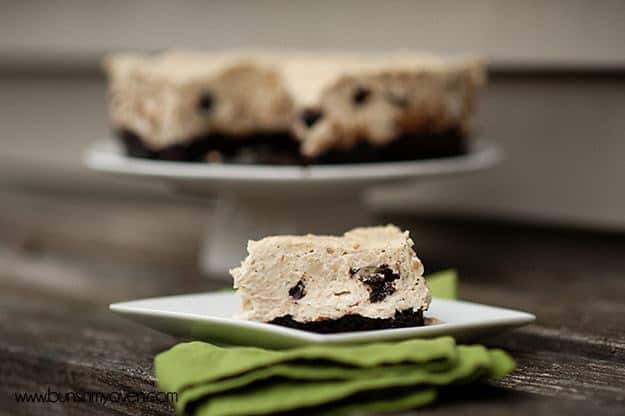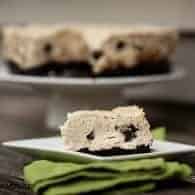 Peanut Butter Brownie Cheesecake
Ingredients:
1 family sized package brownie mix
3/4 cup hot fudge-flavored ice cream topping, warmed
2 8 - ounce packages cream cheese, softened
1 1/2 cups crunchy peanut butter
14 ounces sweetened condensed milk
1 cup whipping cream
2 tablespoons powdered sugar
Directions:
Prepare the brownies according to package directions. Bake in a 9x13 baking dish and allow to cool completely.
Cut brownies into bars and place 3/4 of the bars into a 9x3 inch springform pan. Press the brownies together to form the crust.Spread the hot fudge sauce on top of the brownie crust. Set aside.
Crumble the remaining brownies and set aside.
In a large mixing bowl, beat together the cream cheese and peanut butter together until well combined. Beat in the condensed milk. Set aside.
Whip the cream until you have soft peaks. Beat in the powdered sugar until stiff peaks form.
Fold the cream into the cheesecake mixture.
Spread half of the cheesecake mixture on the brownie crust. Sprinkle the crumbled brownies on top. Spread the remaining cheesecake mixture on top of the crumbled brownies.
Cover and chill for 4 to 24 hours.
Garnish with chocolate syrup or peanut butter cups if desired.
adapted from Midwest Living
Share this: