December 7, 2012
Baked Donuts
It appears that I have a problem.
A donut problem.
I'm not sure how it happened. I've never been a donut person. I honestly only buy bakery donuts a few times a year. Sure, I get the prepacked mini donuts for quick breakfasts, but even those come in moderation.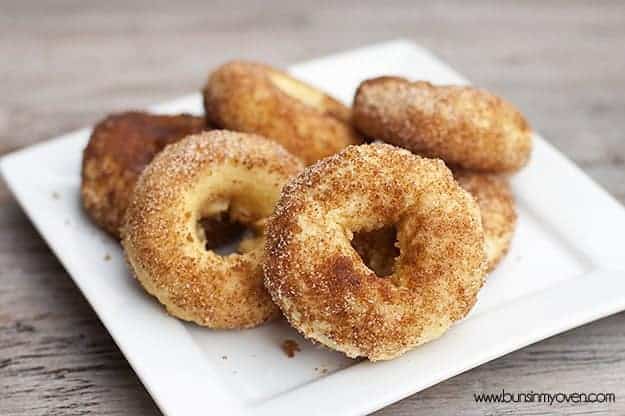 Yet, when you do a quick search for the word "donut" on my blog you are met with 3 pages of donut recipes.
Obviously, my plan is to get that number up to 4 pages. Or eleven pages. Whatever. I'll just keep posting donut recipes and you just keep pretending that I'm not in need of an intervention.
Baked Donuts
Ingredients:
These fluffy, baked donuts are delicious all on their own, but when you dunk them in melted butter and roll them through cinnamon and sugar they are just plain amazing.
Ingredients
For the donuts:
2 cups all-purpose flour
3/4 cup white sugar
2 teaspoons baking powder
1/4 teaspoon ground nutmeg
1/4 teaspoon ground cinnamon
1 teaspoon salt
3/4 cup buttermilk
2 eggs, beaten
1 teaspoon vanilla extract
2 tablespoons butter, melted
For the topping:
1/2 cup (1 stick) butter, melted
1/4 cup white sugar
1/4 cup brown sugar
1 tablespoon cinnamon
Directions:
Preheat oven to 325 degrees. Lightly spray a donut pan with cooking spray.
In a large bowl, mix together the flour, sugar, baking powder, nutmeg, cinnamon, and salt.
In a small bowl, beat together the buttermilk, eggs, vanilla, and melted butter until well combined.
Stir the wet ingredients into the dry ingredients and mix until well combined.
Fill your donut pan 3/4 full and bake for 8 to 10 minutes or until the donuts spring back when touched. Allow to cool slightly before removing from the pan.
To make the topping, mix together the sugars and cinnamon in a small bowl.
Dunk each donut into the melted butter to completely coat and then swirl around in the cinnamon sugar to coat.
adapted from allrecipes.com
Share this: