January 6, 2013
Canned Biscuit Donuts
Donuts are a girl's best friend. Besides diamonds, of course. And chocolate. Oh, and shoes.
Either way, donuts are up there in the top ten. That explains why I have so many donut recipes on this site. The funny thing is that I was missing my favorite donut recipe. I can't believe I haven't shared this with all of you yet.
I've made these donuts for as long as I can remember and, not only are they beyond simple, they are absolutely delicious. Just don't burn your face off trying to eat them straight out of the hot oil. That'd be a bummer. I would know. I have to eat them as soon as I pull them out or my kids sneak them. These donuts aren't made to be shared.
I know many of you are scared of frying, but I'm going to continue posting these types of recipes every now and then, because 1) It's my blog and I'll fry if I want to, 2) You need to get over your fear, and 3) You better check yourself before you wreck yourself.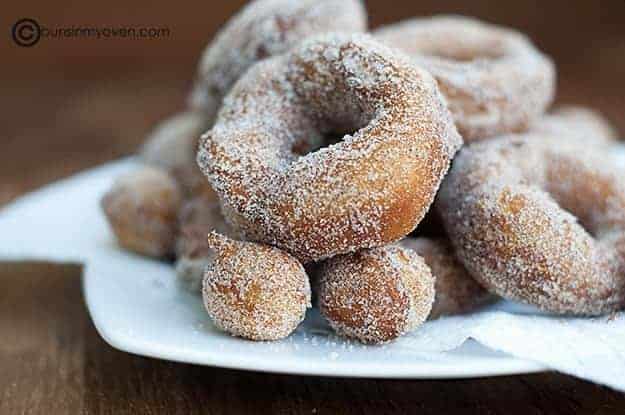 Canned Biscuit Donuts
Ingredients:
1 tube (or more) canned refrigerated biscuits (I get the flaky layers kind)
1/2 cup sugar
1 teaspoon cinnamon (or more, to taste)
hot oil, for frying
Directions:
Heat the oil in a large, deep skillet or deep fryer to 350 degrees.
Using a donut cutter (or the cap from a 2 liter soda bottle), cut the center from each biscuit.
In a small bowl, combine the sugar and cinnamon and set aside.
Place a few donuts in the pan of hot oil, being careful not to crowd the pan. Fry until golden brown on one side, about 1-2 minutes, and then flip and fry until gold brown on the other side.
Remove and drain on a paper towel lined plate.
Shake each donut in the sugar and cinnamon mixture to coat.
Serve hot.
Share this: