January 6, 2013
Tomato and Corn Pie
I've made Tomato Pie before and you know what? It wasn't supah great. It was runny and watery and kind of bland. I wrote it off as something that sounds better than it really is.
Kind of like getting married and sleeping in the same bed as someone. So cozy and romantic, you think. Then you wake up freezing cold, hanging on the edge of the mattress for dear life as someone snores in your ear and elbow punches your eyeball. Sounds better than it is.
Or what about having children? So cute and cuddly, you think! You'll bake them cookies and read them stories! Then they start snotting all over the house, their face hole makes all kinds of loud noises, and oops, you just stepped on another lego and need stitches. Again.
Lots of things sound better than they are.*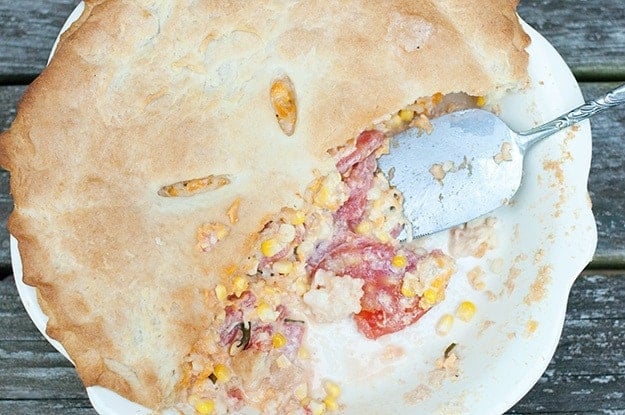 Not this Tomato and Corn Pie. This Tomato and Corn Pie is actually better than it sounds, which is weird because it sounds like AHHHHHHMAZING.
The minute I saw this on pinterest, I repinned, and then headed to the farmer's market. Also, I don't want to brag, but my food pins are kinda fab. You might want to follow me if you like to eat.
The crust is all biscuity and delicious, the filling is super cheesy and flavorful from fresh herbs and spices, and the fresh tomato and corn cut right from the cob just brings the whole thing together in this amazing summer dish. I literally dreamed of this pie the night we had it for dinner. Then I woke up and had a piece for breakfast and cried real tears when we finally finished it off at lunch alongside a salad.
Basically, what I'm trying to say here is quit reading, head to the farmers market, grab some juicy tomatoes and fresh sweet corn, and get this pie in the oven, woman. It's outrageous.
*I actually kinda like my kids and, if we're being totally honest, they are even better, cuter, sweeter than I expected. Also, whinier, dirtier, and crazy-making-er. It evens out. As for the marriage thing, I'm still holding a grudge for the elbow to the face.
Ingredients
For the crust:

2 cups all-purpose flour
1 tablespoon baking powder
3/4 teaspoon salt
6 tablespoon cold unsalted butter, cut into 1/2-inch cubes
3/4 cup buttermilk
2 tablespoon butter, melted
For the filling:

1 3/4 pounds beefsteak tomatoes
salt, to taste
2/3 cup mayonnaise
2 cups shredded sharp cheddar cheese
1/2 cup shredded Parmesan cheese
1 tablespoon garlic powder
1 teaspoon onion powder
1/4 cup chopped basil
2 tablespoons chopped chives or green onions
2 tablespoons fresh lemon juice
black pepper, to taste
1 1/2 cups fresh corn (from 2-3 ears)
Instructions
To make the crust, whisk together the flour, baking powder, and salt. Cut in the butter until you have coarse crumbs. Stir in the buttermilk until just combined. Gather into a ball. (I did all of this in my food processor which works AMAZING for pie dough if you are careful not to over mix.)
Divide the dough in half and roll out one half on a well floured surface into a 12 inch round. Transfer to the pie plate and pat dough into place, trimming any over hang. Place the pie plate and second half of dough, wrapped in plastic wrap, in the refrigerator to chill.
Bring a large pot of water to a boil. Cut an "x" into the bottom of each tomato and place in the boiling water for 10 seconds. Remove the tomatoes to an ice water bath. When the tomatoes are cool enough to handle, peel the skins with your hands. They should slip right off.
Line a baking sheet with paper towels or a tea towel. Slice the tomatoes in 1/4 inch slices, remove the seeds with your fingers (I removed seeds from about half of the tomatoes as they have a lot of flavor but are also very wet) and arrange them in a single layer on the towel. Sprinkle with sea salt and allow to set for 20 minutes.
Blot with a paper towel to dry any excess moisture.
Preheat the oven to 400 degrees.
Mix together the mayonnaise, cheddar cheese, parmesan cheese, garlic and onion powders, basil, chives, lemon juice, and black pepper. Stir until well combined. Taste for seasoning and add more as needed.
Remove the pie crusts from the refrigerator. Arrange a layer of half the tomato slices over the bottom of the pie crust. Sprinkle the top with half of the corn. Drop spoonfuls of half of the mayo/cheese mixture over the top of the corn and spread to cover. Repeat the layers with the remaining ingredients.
Roll out the other ball of pie dough and top the pie. Pinch the seams closed to make a pretty edge. Use a sharp knife to cut four slits in the top crust. Brush with the melted butter.
Bake until the crust is golden and the filling is bubbling, about 30 - 35 minutes.
Cool 10 minutes before serving.
https://www.bunsinmyoven.com/2011/08/17/tomato-and-corn-pie/
recipe very lightly adapted from Pink Parsley
Share this: