November 19, 2012
Brookies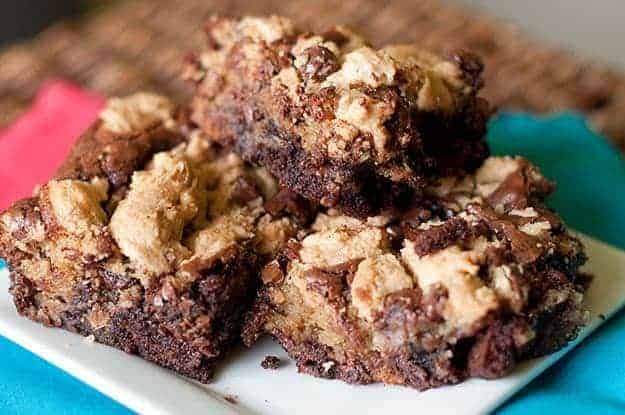 You know how people sometimes start complaining about how busy they've been and you're all "Yeah, yeah, you think YOU'RE busy? You should hear about MY life," but you only say that in your head because saying it out loud would be rude?
Well! Just so you know, I know you're going to be silently saying those things in just a moment, but I don't care. You can one-up me in your head all day, just so long as you'll let me whine for a minute.
You guys! I've been so busy! Things! So many things! That I must do!
Alright, I'm done with the whining portion of this post. I think. You never know when another whine may come on. Sometimes they sneak out.
Anyway, I've been busy, but I still found the time to make some Brookies. Obviously. In fact, Brookies are PERFECT for when you're busy, because they are  basically two desserts that you make at once and so that's a multitasking win!
Also, brownies covered with cookie dough are a good thing to eat when you're busy. They'll motivate you to get your work done. Or take a nap. Either way, you'll be motivated to do SOMETHING.
These are pretty yummy and I highly recommend you find the time  to make some immediately.
In the meantime, I hope you aren't too busy to click through and check out Tiff's review of Purina Pro Selects. There's a $100 Visa gift card up for grabs.
Ingredients
For the brownies:

(Use a box mix if you're not up for making homemade.)
1 cup (2 sticks) butter
2 1/4 cups sugar
4 large eggs
1 1/4 cups cocoa powder
1 teaspoon salt
1 teaspoon baking powder
1 teaspoon espresso powder, optional
1 tablespoon vanilla extract
1 1/2 cups all-purpose flour
2 cups semi-sweet chocolate chips
For the cookies:

2 1/4 cups all-purpose flour
1 teaspoon baking soda
1 teaspoon salt
1 cup (2 sticks) butter, softened
3/4 cup granulated sugar
3/4 cup packed brown sugar
1 teaspoon vanilla extract
2 large eggs
2 cups (12-oz. pkg.) semi-sweet chocolate chip cookies.
Instructions
For the brownies:

Pre-heat the oven to 350 degrees. Butter a 9×13 baking dish.
In small saucepan over low heat, melt butter completely. Stir in sugar and continue cooking for 1-2 minutes, stirring constantly. Do not allow sugar mixture to boil.
Pour butter mixture into a large bowl or stand mixer, beat in cocoa powder, eggs, salt, baking powder, espresso powder, and vanilla extract. Mix until well combined.
Stir in the flour and chocolate chips until well combined.
Set aside.
For the cookies:

Preheat the oven to 350 degrees.
Combine flour, baking soda, and salt in a small bowl and set aside.
In the bowl of your stand mixer, beat together the butter, brown sugar, sugar, and vanilla until creamy. Add eggs, one at a time, mixing well after each addition. Gradually beat in the flour mixture. Stir in the chocolate chips.
Line a 9x13 baking dish with parchment paper. Pour brownie batter into the prepared baking dish. Drop small spoonfuls of the cookie dough on top of the brownie batter.
Bake for about 30 minutes or until a toothpick inserted into the brownie portion comes out mostly clean
https://www.bunsinmyoven.com/2011/05/23/brookies/
Share this: