November 19, 2012
Pumpkin Streusel Muffins
I'm going to make an educated guess here and say that you love muffins. I mean, come on. Everyone loves muffins! They are easy to make, delicious to eat, portable, freezable, and delectable. Delectable. I don't think I've ever used that word before. I just really needed another "-able" word to round out that sentence. Forgive me.
Now, these muffins. I came across them in an old Taste Of Home magazine and I ripped the recipe out and stuck it in my To Bake Soon pile. All of my recipes are in the To Bake Soon pile. I don't bother ripping out recipes that I don't want to make as soon as possible. I'm wild and crazy that way.
Enough about the piles of papers littering my house, let's discuss these muffins.
They did what every muffin should do, and that's bake up nice and tall. I hate when I make a muffin that doesn't achieve that beautiful round top. Flat muffins are bad, man. My kids loved these muffins, but I had one complaint. The orange zest in them gave them a bit of an odd flavor. Next time (and, yes, there will be a next time) I will make these without the orange zest. These were still very good and I still ate more of them than I care to tell you, I just found myself wishing I had left the orange zest out. If you choose to make these (and why wouldn't you?), go ahead and add the orange zest if it sounds good, or leave it out if it doesn't. The world will keep on spinning either way. True story.
This muffin recipe mixes up like most others, wet ingredients and then dry. Easy peasy.
I was supposed to end up with twelve muffins, but I had enough batter for twelve regular muffins and twelve somewhat skimpy mini-muffins.
The streusel topping is just flour, brown sugar, and butter. Cut the butter into the flour and brown sugar and sprinkle a little (or a lot) of the topping on the muffins before baking. You could also add a bit of rolled oats to the streusel topping if you want to feel all healthy and virtuous.
Bake these guys for 20-25 minutes at 375 degrees. Your house will smell lovely.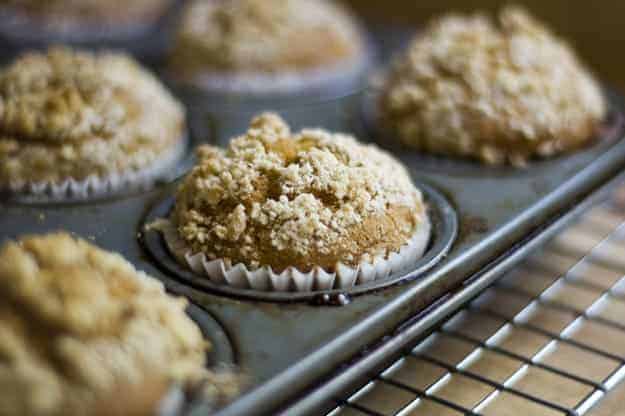 Let the muffins cool on a wire rack and try your darnedest to keep your kids away from the streusel topping. Something about streusel topping just begs kids to pick it off.
Look at how tall and round and perfectly muffin-like they are?
I love muffin-like muffins. Am I still even making sense? Did I eat too many muffins and now I'm in the midst of some sort of pumpkin muffin overload and it's causing me to type things without even caring if they make sense?
It's totally possible.
Pumpkin Streusel Muffins
Ingredients
For the muffins
1/4 cup butter, softened
1/2 cup sugar
1/4 cup packed brown sugar
2/3 cup canned pumpkin
1/2 cup buttermilk
2 eggs
2 tablespoons molasses
1 teaspoon orange zest
2 cups all-purpose flour
1 teaspoon baking soda
1/2 teaspoon baking powder
1 teaspoon cinnamon
1/4 teaspoon ginger
1/8 teaspoon cloves
1/4 teaspoon salt
For the streusel topping
1/3 cup all-purpose flour
3 tablespoons brown sugar
2 tablespoons cold butter
2 tablespoons rolled oats (optional)
Instructions
Pre-heat oven to 375 degrees.
Cream together butter and sugars until creamy.
Beat in pumpkin, buttermilk, eggs, molasses, and orange peel.
Combine the dry ingredients in a small bowl and mix into the batter. Stir just until combined.
Fill greased or paper-lined muffin tins 2/3 full of batter.
For topping, combine the flour and brown sugar and oats (if using) in a small bowl.
Cut in butter until the mixture is crumbly.
Spoon streusel topping over the muffins and bake for 20 to 25 minutes or until a tester inserted in the center comes out clean. Cool in pan for 5 minutes before removing to a wire rack. Enjoy!
Disclaimer: The nutrition information presented below is not guaranteed to be accurate.

Affiliate Links: This blog contains affiliate links.
Nutrition Facts
Serving Size
Amount Per Serving
As Served
Calories 2727kcal Calories from fat 736
% Daily Value
Total Fat 82g
126%
Saturated Fat 48g
240%
Transfat 3g
Cholesterol 508mg
169%
Sodium 2287mg
95%
Carbohydrate 457g
152%
Dietary Fiber 14g
56%
Sugars 222g
Protein 48g
Percent Daily Values are based on a 2,000 calorie diet. Your daily values may be higher or lower depending on your calorie needs:
Calories
2000
Total Fat
Less than
65g
Sat Fat
Less than
25g
Cholesterol
Less than
300mg
Sodium
Less than
2,400mg
Total Carbohydrate
300g
Dietary Fiber
25g

adapted from Taste Of Home